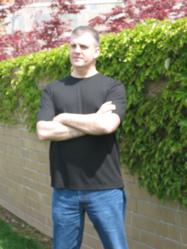 ...the American Cancer Society accomplishes many good deeds, and I'm willing to put my money to that cause
Sacramento, California (PRWEB) April 12, 2012
Author Lawrence BoarerPitchford is giving away six months worth of royalties to charity! Has he lost his mind, is he in need of help? Well, a little of both. Lawrence has stated publicly that he is going to take his first six months royalties and turn them over to the American Cancer Society. On his website, the author of The Lantern of Dern Blackhammer, and the In the World of Hyboria series stated he's making a contribution to the charity scene.
When asked why, Lawrence replied, "I have witnessed a close family member suffer from throat and skin cancer. I have personally lost friends and family to skin, lung, and colon cancer. Additionally, I was raised with the value that giving to charities such as the American Cancer Society accomplishes many good deeds, and I'm willing to put my money to that cause."
Lawrence BoarerPitchford recently returned to the literary scene with several new books. When asked why perform a philanthropic act so early after his debut he replied, "Philanthropy is never an early act, it is more times than not an act after the fact. A person is often touched by some event that wakes them to the need to help relieve suffering, protect the weak, or clothe the poor. While there are many worthy charities out there I decided to focus on one that has impacted my family and friends personally."
Lawrence's books reside at Amazon.com where he is selling exclusively to Kindle users for the time being. His series In the World of Hyboria which includes five short stories that cost an easy ninety nine cents each, while his novel The Lantern of Dern Blackhammer is a cool four dollars and ninety nine cents. He's taking the royalties derived from his book sales and turning over a six month amount to the American Cancer Society. "But, I need folks out there to buy these books, and ask friends to buy them too. Spread the word to those you know who like fantasy novels, such as barbarian action adventure, or epic tales of elf cities – ancient relics – and powerful wizards, and help my effort. Also, go to my website at http://www.BoarerPitchford.com and track my royalty donation growth. At the end of August, 2012 I will turn over said royalties to the American Cancer Society, no matter how much it is."
The author wants the reader to take a vacation away from reality, read his work, and while they're fighting orcs, adventuring through dark dungeons, or drinking with barbarians they can do something really good with their purchase, and reap the benefits of more than just escape, by helping a worthy cause!
The author's web site is http://www.boarerpitchford.com where one can find more information about the author, his latest works, works to be, and what he's up to. Also, he has a link to a blog set up to facilitate the discussion of fantasy fiction, and science fiction, and much more. Take a moment to investigate the blog and add comments.