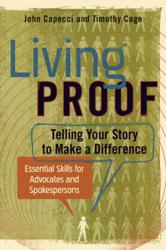 With our personal stories we move people from apathy to empathy to action.
Omaha, NE (PRWEB) April 11, 2012
FocusDriven, Advocates for Cell-Free Driving, has endorsed "Living Proof: Telling Your Story to Make a Difference," a new manual published by Granville Circle Press. "Living Proof" is the first comprehensive guide aimed at anyone asking "How do I tell my story and have a real effect?" During April—Distracted Driving Awareness Month—the book's authors will donate a portion of sales to FocusDriven.
"The book is for any person who wants to get involved in meaningful ways to advocate for change," said Rob Reynolds, executive director at FocusDriven. "We all have a story to tell and a passion that drives us to do what we do. This book explains how advocates can craft their stories comfortably and in a way that will resonate with audiences."
Written by John Capecci and Timothy Cage, communication professionals who've helped thousands of advocates and hundreds of organizations share their stories, the book is a combination of communication theory and practical advice.
"Very often it is the story of one person--what he or she has seen, experienced, learned or lost--that ultimately makes a message stick," says co-author Cage. "With our personal stories we move people from apathy to empathy to action."
"Living Proof" is a step-by-step guide that teaches readers how to prepare and share experiences and life stories to engage audiences, raise awareness, change behaviors and fundraise. It features real-life stories and useful insights from advocates from all walks of life, including:

Loren Vaillancourt, former Miss South Dakota, who, after her brother was killed in an accident involving a distracted driver, became a national advocate for stricter driving laws.
Scott Harrison, founder of charity: water, who tells his story of transformation to gain support for bringing clean water to developing nations.
Theresa Greenleaf, a Brooklyn mom, who advocated for allergen-free school lunches in order to protect children who have allergies or asthma.
"Living Proof" helps speakers at all levels understand the "Five Qualities of Effective Advocacy Stories" with topics such as Why and When Stories Work, Finding and Focusing Your Story, Hooks and Headlines, Delivering Powerful Presentations and Giving Great Media Interviews. Through inspirational guidance and practical how-tos, "Living Proof" teaches individuals how to advocate for the causes most important to them by employing the single most powerful tool they have—their personal stories.
FocusDriven shares the stories of victims of cell phone distracted driving through their Survivor Advocate Network, in a video gallery of victims' families and on an interactive map that shows incidents of distracted driving accidents in the U.S. Says "Living Proof" co-author Capecci, "FocusDriven understands the power of personal stories and we're proud to partner with them during Distracted Driving Awareness Month."
To learn more, visit livingproofadvocacy.com and focusdriven.org.
About FocusDriven
FocusDriven, Advocates for Cell-Free Driving, is a nonprofit advocacy organization for victims of motor vehicle crashes involving drivers using cell phones. FocusDriven supports victims of cell phone distracted driving and families of victims. FocusDriven works to increase public awareness on the dangers of cell phone distracted driving by putting a human face on the disastrous impact of the behavior, in order to promote corresponding public policies, programs and personal responsibility.
About "Living Proof"
"Living Proof: Telling Your Story to Make a Difference" is distributed nationally by Itasca Books ($21.95, softcover, 212 pages, 6" x 9". ISBN 978-0-9838703-0-2 Granville Circle Press). It is available at independent booksellers, major online bookstores and directly from Itasca Books. Quantity discounts available.