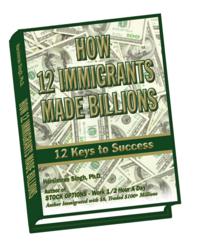 Leadership works best when those in charge put the 'ship' before the 'leader'. Great leaders are able to make the whole be greater than the sum of its parts.
Oyster Bay, NY (PRWEB) April 09, 2012
Learn secrets to making money from an immigrant who migrated to the USA with a total of $8 and is now ranked #1 when one Googles, "Rich Immigrants."
The following are some extracts from Dr. Harsimran Singh's book, How 12 Immigrants Made Billions-12 Keys to Success which can serve as a revival for those who have been financially hit during this recession.
Leadership skills and overall willingness to lead allows anyone to establish a goal, plan ahead, and assume the risks and responsibility required to succeed. To be a leader, the author writes, "An individual must have a mindset unlike most people. Their thoughts are what separate them from other individuals." A leader's new thoughts, freshness of perspective, and willingness to lead while taking risks in innovation, distinguishes them and their accomplishments from the pack to break and exceed the confines of mediocrity.
A different approach, a new method, innovative concepts, and ideas all come with their own baggage and risk. Dr. Singh further writes, "An individual who possesses true leadership ability is not afraid to fail in the effort and pursuit of following through with new ideas. The ability to undertake risks and challenges which the average person would be deterred, initiates the risk-taker to take action and create success."
Business needs leaders and those leaders are paid accordingly; the more successful a business, the more money the business leader will potentially make. The leadership role which a person assumes is one that will seek to take on for the growth of oneself as a person and one's organization. Adding to the above, Dr. Singh says, "As a strong leader, positivity allows a person to have faith in self and be hopeful for the future success of the individual and the organization."
About the author:
Dr. Harsimran Singh is a philanthropist who gave up millions of dollars for the establishment of charitable institutions and moved thousands of homeless people into decent housing. He has been featured in Fox News, CBS, and many other TV and radio programs. The NY Times, NY Post and many other newspapers wrote full page articles on his rags to riches story. He has authored 13 inspirational books. Writing these books has been his way to give back to the people of America where he landed with almost nothing. He loves to encourage people through his public speaking engagements.