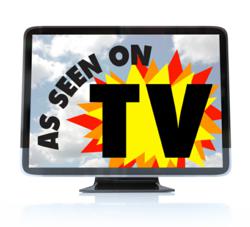 "TV advertising is still the most powerful advertising medium - by far"
London, England (PRWEB UK) 12 April 2012
The DRTV Centre, the leading direct response television advertising agency, discusses the 10 main areas that often concern advertisers who have never used TV before. Ten top tips will greatly increase the new TV advertiser's chances of success.
TV ads are almost always listed top when people are asked to name their favourite advertisement. This is proof that TV ads can be especially memorable and effective. But advertisers who have never used TV before are understandably daunted by the hurdles they perceive. In truth, getting your company on TV is nowhere near as complex (or expensive) as you might imagine.
Here are the 10 most important steps.
1. Define the advertising objective
Do you want instant orders via phone calls, SMS or web visits? Do you want to drive customers to retail stockists? Is increased awareness your main aim?
2. Decide the campaign budget
TV costs split into two distinct categories: the cost of TV production and the cost of TV space.
We always urge first-time TV advertisers to be cautious and insist that their test budgets for both production and TV space are modest.
Surprisingly, low budget TV commercials can be made for less than £10,000, even as low as £5,000; these would normally feature stills or library footage. Original TV filming costs upwards from £15,000.
TV space costs will vary according to campaign objectives; test media budgets can be as low as £25,000.
3. Define the Target Audience to maximise media effectiveness
TV spots can be planned most cost-effectively if advertisers take real care in defining the key target audience. Write down the main variables using this check list:
Male or female? Key Age groups? Social class? Geographical area? Personality types? What else distinguishes your customers from Mr or Mrs Average?
4. Isolate the main reason why anyone should desire the product
Most UK TV commercials are 30 seconds long. That's all. 30 seconds is only enough for about 90 spoken words. So it's common sense that your message should be simple and concentrate on one persuasive benefit.
5. Include support for the product's main benefit
Back up your benefit with proof. This could be testimonials from existing customers, for example, or independent product tests.
6. Choose the right tone of voice
Should the delivery be gentle and relaxed? Authoritative and assertive? Tone of voice matters.
7. Be clear on what you want viewers to think and do
Do you want them to pick up the phone and place an order? If so you'll need to express a "call to action" clearly and memorably.
8. Create a persuasive TV script
Take professional advice from a seasoned TV scriptwriter. Your safest bet will be to appoint a TV specialist advertising agency.
9. Pick your TV production company carefully
Choose a smaller company which specialises in high quality, low cost productions.
10. Plan and book the right TV airtime
You'll need the advice of experts. As a small advertiser it's probably best to avoid the big name media agencies used by multinational clients. Smaller media specialist agencies are often able provide the best value airtime deals for smaller clients.
David Pearson, CEO of The DRTV Centre explains: "TV advertising is still the most powerful advertising medium. If you're an advertiser who has never tried TV before, give it serious consideration. It could transform your business".
Company information: The DRTV Centre was established in London in 1997. It is the first and only advertising agency in the UK to concentrate on direct response TV.
For further information, call David Pearson at The DRTV Centre on 0800 180 4250; or email david(at)drtvcentre(dot)com .