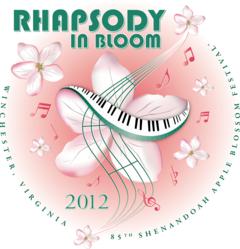 Celebrate the Bloom with Virginia Wine
Winchester, VA (PRWEB) April 11, 2012
With 85 years of festival experience, the Shenandoah Apple Blossom Festival officially kicks off its 85th year with a Wine Fest all ages will enjoy. Beginning on April 27th, one can walk down the Loudoun Street Walking Mall in historic Old Town Winchester. This two day event provides a traditional wine tasting atmosphere featuring numerous wineries in two "Wine Gardens" Over thirty artisans and vendors will be set up along the Old Town Mall along with the local merchants offering a wide variety of art, jewelry, bags, pottery and more.
John Rosenberger, Executive Director says, "The Wine Festival is the newest part of the festival which now is attracting over 250,000 visitors. The communities surrounding Winchester/Frederick County share in the growth of the Apple Blossom Festival and feel it is their home town festival as well. Since Winchester/Frederick County are about 120,000 this more than doubles our community between these two weekends. By doing this wine festival we can spread our events out and not jammed into four days resulting in more people being able to attend more than one event."
Music is a big part of the Apple Blossom Festival and the Wine Fest is just one more example. Two stages will be set up with on-going bands thru out the event. Plus culinary vendors will be located in both gardens offering a wide variety of food and snacks for every age and taste.
The Wine Gardens are located on two downtown parking lots: the Feltner Wine Garden is located on the corner of Boscawen and Loudoun Streets. and the Hable's Wine Garden is located on the southern end of the mall across from the Shenandoah Valley Discovery Museum.
Dario Savarese, Director of Marketing and Sponsorship, for the Shenandoah Apple Blossom Festival says "There are many reasons for expanding the festival but quite literally the main reason was the over whelming support from sponsors. We ran out of events they could host. Secondly, the Apple Blossom Festival highlights Winchester/Frederick County and we wanted to showcase the Main Street Downtown Mall. This wine festival is for all ages with the Shenandoah Discovery Museum opened for a fun family day as well. People can enjoy wine while also finding out about the diversity of our restaurants and art galleries downtown."
"The Wine Festival actually started as part of the Park celebration", says Dario, "We soon decided it could be an event of its own. It has expanded our audience and our demographics. This is truly a weekend event. You can attend the festival and also tour the many historic sites in the area."
The Wine Festival runs from 3:00 to 10:00 on Friday and from 11:00 to 6:00 on Saturday. If you need accommodations . Coming out for the weekend or for a week and want to know more about events and activities for your weekend visit go to Go Blue Ridge Travel.