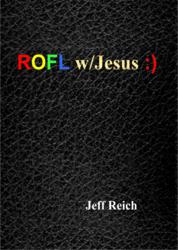 ...the strong Christian message is presented in a brilliant way. It's honest.
Stephanie Katz, 17
Orlando, FL (PRWEB) April 10, 2012
DC Press, a Florida-based independent publisher, is asking the question: "What do you do, when your brother flunks out of college and your girl friend's parents are divorcing, and you discover that studying for the next AP biology exam is more challenging than expected. And, what do you do when one of your cross country teammates tells you how he has plans to make a "move" on the girl you care deeply about?" This is the nature of just a few issues faced by characters in "ROFL w/Jesus :).
"If you're a teen in today's high school environment, you face lots of challenges. And, as the country-western song suggests, "no one knows what goes on behind closed doors." Combining the pressures of everyday school work with sports and other school activities, with family dynamics, those personal private moments that every teen can relate to, and throw in a life-or-death situation or two…well, you've got the setting for "ROFL w/Jesus :)."
This newly released Christian teen novel has it all. From the power drugs can hold over one's own self esteem, to having a close friend nearly raped by strangers on a beach during an outing, and dealing with the worst possible ramifications of texting while driving -- this new book has readers in its grasp from the first pages. The way the story line is constructed, the way characters become instantly real, and the way messages come through, readers are instantly a part of the lives of these high schoolers. These events are just a few of the many surprises that await the teens in storyteller, Jeff Reich's novel.
The first in a series of Christian teen novels, "ROFL w/Jesus :)" follows Parker Williams and Emily Thompson, high school sophomores attending rival schools, who meet regularly at their church youth group gatherings. Readers are introduced to their family and friends, and the ever-present character of Jesus. When times get tough and the world becomes almost too much to absorb, these kids find that the one constant in their sometimes-off-the-wall lives is Jesus. When Facebook's founder Mark Zuckerberg pops up in one chapter, he gets to dialogue with Jesus.
First time author, Jeff Reich isn't new to the world of teens. He's been working with and counseling teens in his nearly 30 years of youth work. A Florida businessman, and life-long storyteller, who has raised his own family, and experienced (as he shared with the publisher) all of the chapters of fiction, as they really happened to teens he's known, Reich sees his characters expanding and continuing into a series that will follow the teens through high school and off and into college. The next novel in the series is due out for Christmas 2012.
"ROFL w/Jesus :)," as nearly all teens (and most adults who spend much time around them) will know, stands for "Rolling on the Floor Laughing with Jesus." Irreverent? Doubtful, when one considers that Jesus is a "real life" being who walks in the same shoes our teen characters walk. He isn't a blemish free Sunday School character who wears exclusive white robes and speaks Bible talk. Not this Jesus. He is living, breathing friend and counselor who takes the same roads, faces the same challenges, and stand ready to listen and cry and laugh with anyone who cares enough to give him a try.
While the novel is casual reading for most readers, it is anything but casual. The book has a strong message, and for any youth leader or pastor looking to make its use a "teachable moment," the author has created an online Study Guide. Leaders can take each chapter and use them for discussion and exploration.
Feedback from readers of all ages has been outstanding. One of the most compelling comments came from a 17-year-old, who wrote: "ROFL w/ Jesus :) was very different from what I was expecting. I like that it wasn't afraid to really take a look at some of the tough issues that teens face in high-school these days. It in no way felt 'religious.' It's also a very cool fact that these stories were from interviews with teenagers. I think that is why this book will be so easy for that age group to relate to. An extremely smart choice by the author to do that. "
The reviewer goes on: "Additionally the strong Christian message is presented in a brilliant way. It's honest. It doesn't try to have all the answers. I like the fact that the characters struggle with their faith at times, which is a natural thing, I think, for people of any age, but especially teenagers struggling with peer pressure and the desire to have a 'cool' self-image. However, despite these moments of weakness in their faith walks, the author does a great job of guiding the characters back to the knowledge that God is in control, and He loves and accepts them whether they're making straight A's in school, or if they've lost their temper with friends and family. There is an awful lot of transparency to the characters in this story and the struggles they deal with. It's sad that so many of these major issues are prevalent in high-schools today, but that's what makes a book like this needed, to show kids that Jesus is there to love and help them."
ROFL w/Jesus :)
by Jeff Reich
DC Press LLC
ISBN: 978-1-932021-03-5
218 pages, soft cover
$16.95
http://www.DCPressBooks.com - http://www.ROFLwJesus.com
###