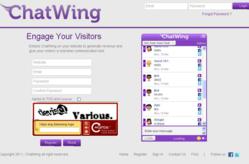 Seattle, WA (PRWEB) April 08, 2012
Bloggers are definitely important parts of the Internet. Through them, information travels fast with the help of their blogs and websites. Since there are hundreds and thousands of blog sites out there, the amount of registered bloggers doubled. However, most of these blogs are inactive. The developers of Chatwing devised a quick solution to this dilemma by providing a versatile website chat box meant for bloggers.
Chatwing is similar to other widgets out there specializing in chat. However, it differs in terms of connectivity and simplicity of usage. Bloggers who used Chatwing during its early release have recognized its sheer potential. One of the best factors they liked about Chatwing is the social network log-in method. Now, guests and visitors can log in using their Facebook or Twitter accounts.
The effect of Facebook and Twitter log-in is remarkable for bloggers who are using Chatwing. Now, the bloggers can exchange profile information easily. Adding to that, visitors can use cool avatars. There are also lots of emoticons to choose from.
Embedding Chatwing to a blog is easy. The user must register the domain name of his blog to the Chatwing chats site. After that, he can now proceed to widget customization. The user can edit the height, length, color, and name of the widget. After that, Chatwing provides the HTML code needed for the actual embedding. After embedding, the widget usually goes live in under few seconds.
According to some bloggers, the Chatwing free chat widget has brought moderate to high spikes of visibility for their blogs. This has been observed in just a week prior to installation. In a way, visitors are really enticed by Chatwing's simplistic features. This contributed to Chatwing's steady visibility, despite the fact that many chat sites are competing for the top spots.
About Chatwing.com
Chatwing.com has developed live chat software for websites and blogs. The Chatwing.com website offers users the ability to signup and create a customizable live chat feature in 1 minute or less. Users have the ability to customize the size, color, and fonts of the chat product. The ability to chat via social media accounts such as Facebook and Twitter enable Chatwing to offer a personal and unique real-time experience to all sites. Chatwing is 100% free web software.