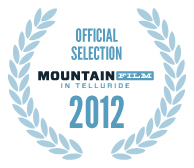 Get out there and manifest your dreams, come with me and shine on!
Los, Angeles, CA (PRWEB) April 09, 2012
[Verde Media Group, Inc. (OTC: VMGI) is pleased to announce that in association with Matt Herriger Films, "Winter's Wind" directed by Matty "Moo" Herriger, has been officially selected to compete in the 2012 Mountainfilm festival in Telluride, CO.
Started in 1979, Mountainfilm in Telluride is one of America's longest-running film festivals. Through the years, in and out of trends and fads, the Mountainfilm in Telluride Festival has always been best described by one unchanging word: inspiring. Far more than any other adjective, that's how festival audiences describe their experience. The Mountainfilm festival kicks of on May 25th and continues through the 28th of May during Memorial Day Weekend.
William Veve, President of Verde Media Group, Inc. stated, "We are very proud to be accepted to the Mountainfilm festival. This is a wonderful opportunity for "Winter's Wind" to be seen and enjoyed by an even wider audience, along side other important films from independent productions to larger studio pictures. With the success of the Sun Valley Film Festival and the great buzz from the Powder Magazine article, and the support from our friends at TGR we know "Winter's Wind" will be a success. As soon as we have the schedule from the festival we will release the dates and times of our screening so that everyone may enjoy "Winter's Wind."