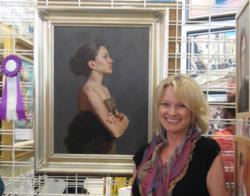 It is a privilege, not only to have my work hung with so many accomplished artists' portraits, but to have received such an honor from a judge with the talent and skill Robert Lemler exhibits in all of his paintings.
Mesa, AZ (PRWEB) April 09, 2012
Artist Chris Saper received awards for two of her three entries at the Portrait Artists of Arizona's Second Annual competition Saturday night. Portraits painted by twenty-one artists were juried into the show.
Widely recognized painter Robert Lemler, made the awards. Of Saper's winning piece he wrote, "This piece was particularly well painted. I love the low-key tonal arrangement - the warm and cool in the complexion work beautifully. Well done."
The SunDust Gallery in Mesa, AZ, is hosting the exhibition, which will hang through Saturday, May 5, 2012. The exhibit is free and open to the public.
Portrait Artist Chris Saper has painted commissioned portraits professionally for over 22 years, delivering almost 400 paintings to clients nationwide. She is the author of "Classic Portrait Painting in Oils: Keys to Mastering Diverse Skin Tones", four instructional DVDs, and teaches at the Scottsdale Artists' School, as well as other venues.