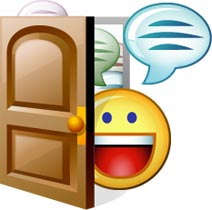 Seattle, WA (PRWEB) April 09, 2012
For many people, website chat is really important. It serves the dual purpose of providing information and connecting many people all over the world. In fact, most people in the World Wide Web are all concerned about chatting. The developers of Chatwing have realized this specific need. That is why they came up of a developed chat function that provides a whole new chatting experience.
Chatwing is definitely about connection. It brings a whole new ground to global chatting because of its versatility that is not offered by other chat sites. It can also be embedded to any blog, raising its visibility over time.
Installing Chatwing is also an easy thing to do. First, the user must register his blog's domain name to Chatwing. After that, he can set up an official account that will serve as his dashboard. Customization of the widget follows. In this step, the user can change the height, width, color and name of the widget. Chatwing will generate the needed HTML code after everything has been completed. Once the widget is installed to the blog, it usually goes live in under few seconds.
Chatwing's free chat widget also has an improved range of connectivity. This is because of Chatwing's latest social network log-in method. Through this feature, visitors and guests can log in using their Facebook or Twitter accounts. This makes personal information exchange easy. Adding to that, people can choose from a wide variety of avatar displays. They can also use cool emoticons to spice up any conversation.
According to some bloggers, these important factors made Chatwing the right choice for their blog chats. In a way, Chatwing became the main tool that connects bloggers to their rightful visitors. New users can visit Chatwing's official Facebook page to know more about its core benefits. The Chatwing blog is also updated with useful information.
About Chatwing
Chatwing.com has developed live chat software for websites and blogs. The Chatwing.com website offers users the ability to signup and create a customizable live chat feature in 1 minute or less. Users have the ability to customize the size, color, and fonts of the chat product. The ability to chat via social media accounts such as Facebook and Twitter enable Chatwing to offer a personal and unique real-time experience to all sites. Chatwing is 100% free web software.