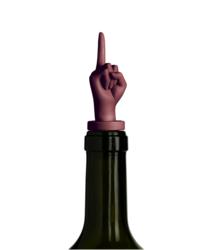 "At Spit Bucket, we believe that our impact on society and the environment goes beyond the fun and irreverent designs and lifestyle accessories we create."
St. Helena, CA (PRWEB) April 09, 2012
Founders Jennifer Amis and Michael Roché believe that sustainability is intrinsic to Spit Bucket's corporate DNA. Earlier this year, they recruited Felina Danalis to oversee the company's Corporate Social Responsibility (CSR) program. Felina joined the team as Sustainability and Operations Manager, bringing over 15 years of experience in the broader space of sustainability and international development.
The entire Spit Bucket team believes that helping to preserve and protect the environment should be a natural part of doing business. All of Spit Bucket's barware accessories and designs are made from recycled materials - a key component of their sustainability program and a practice that has been adopted by similar companies over the past couple of years.
The company started taking steps to move production to the United States in an effort to reduce their carbon footprint and enhance the US economy by using home-based companies. "At Spit Bucket, we believe that our impact on society and the environment goes beyond the fun and irreverent designs and lifestyle accessories we create. While to some 'the business of business IS business', we recognize that just as we depend on the wonderful web of planetary goodness to get our products to you, we also need to help preserve and protect resources as part of doing business. Some people call it 'doing well by doing good' or working for the triple-bottom line of people, planet and profit," commented Spit Bucket President Jennifer Amis.
The California-based design company has also started developing socially conscious home décor accessories in an effort to increase awareness for important issues that affect everyone, starting this year with cancer, or the "Big C." This spring, Spit Bucket will release their newest Vinostop—a rubber wine-stopper featuring various hand gestures—that will "Give the Bird to the Big C" with proceeds going towards cancer support groups.
Spit Bucket will be supporting several charitable events in 2012, including:

Spit Bucket has signed on to sponsor an upcoming screening of the education equity film project, TEACHED, being held at the Cameo Cinema in St. Helena, CA on April 18 at 8:00 pm. The poignant short film series is produced and directed by Spit Bucket President Jennifer Amis' sister, education activist Kelly Amis.
"TEACHED is a project that is near and dear to my heart. Not only was the short film series created by my sister, but I truly believe that giving everyone in this country equal opportunity for a great education will inevitably help build our economy and create more US-based jobs."
The company is also supporting Heart's Delight Wine Tasting & Auction to benefit the American Heart Association in Washington, DC being held May 2-5. The four-day event typically attracts winemakers, culinary experts, and prominent figures in government, business, healthcare, and hospitality. Over its 12-year history, Heart's Delight has raised more than $10 million for the American Heart Association. Spit Bucket is participating in the "United States of Wine" celebration being held on May 2.
The Oakland Museum of California is holding Come Together: Golden Gala 2012 on May 19. This bi-annual celebration funds the innovative and nationally recognized Education Programs of OMCA. The evening is inspired by one of the museum's latest installment, "The 1968 Exhibit" which runs March 31 – August 19, 2012. Spit Bucket provided the museum with 600 reduced-rate "peace sign" Vinostops to give each gala attendee a special gift in tune with the fundraiser's theme.
The company will continue to look for opportunities to partner with charitable organizations – specifically in education, heart health and cancer-services groups – to build their corporate philanthropy program to the benefit of all. For more information, please contact Felina Danalis, Sustainability and Operations Manager, at fdanalis(at)thespitbucket(dot)com.
About Spit Bucket, Inc.
Spit Bucket develops products for those who enjoy fine wine and fine design. Our products are developed from the mindset that wine should be fun and approachable (and it doesn't hurt to be a little bit pretty as well). The company was founded in 2009 by Michael Roché and Jennifer Amis and is based in Napa Valley, California.
###