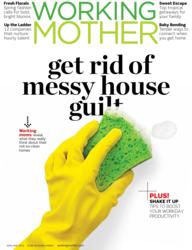 Working Mother Editorial Director Jennifer Owens says, "Our readers tell us that one of the best ways to enlist help from husbands is to delegate specific tasks and let him do it his way."
New York, New York (PRWEB) April 09, 2012
A new "Clean House" survey of working moms finds that 68% feel very guilty that their homes are not clean enough and finds that they are almost twice as likely to poorly judge themselves (63%) versus worrying about the judgment of their parents, friends or in-laws. The Working Mother survey, published in the April/May issue, also reveals that the primary reason they want a clean house is to give them a sense of peace.
When asked the primary reasons they seek to keep their house clean, the overwhelming majority (68%) of working mother respondents say it gives them a sense of calm, while only 27% report it makes them feel like a good mother (27%) and wife (17%).
Working Mother Editorial Director Jennifer Owens says that even as working mothers work longer and longer hours, they still retain primary responsibility for housekeeping chores. "A majority of working moms (61%) say their husbands still need to be reminded to clean, while less than half (49%) say their husband helps around the house," says Owens. "Our readers tell us that one of the best ways to enlist more help from our husbands is to delegate specific tasks to him and let him do it his way."
Jennifer Glass, PhD, a professor in the University of Texas at Austin's Sociology Department, says, "What it means to be a responsible parent, spouse and worker has ratcheted up to an impossible level…The women I talk to never think of themselves as doing a good job as a parent or spouse by bringing home money. Our cultural standards haven't changed much."
Here are some key findings from the Working Mother "Clean House" survey:

Working moms say their biggest messy-house critic is themselves (67%), followed by mother/father (30%), in-laws (26%), and spouse (25%). Respondents were asked to check all that apply.
Fifty-nine percent of working moms agree their husbands don't contribute their full share of the cleaning, while only 38% disagreed.
Fifty-five percent of working moms strongly agree that "a good mother keeps her house clean." More…
More than half (56%) of the women surveyed say they are most likely to clean on weekends, while 42% clean continuously.
73% of moms say they are the ones who pick up the house at day's end.
A majority of moms (52%) do not agree kids should be paid for housekeeping chores, while 37% said they should be paid.
For more results of the Working Mother online survey, please visit: workingmother/cleanhousesurvey and Facebook.com/workingmother and at
Twitter @_workingmother_. Working Mother is owned by Bonnier Corporation.