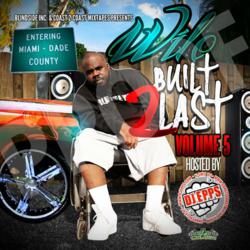 Miami, FL (PRWEB) April 08, 2012
Rap artist Wilo recently released his mixtape "Built 2 Last Vol. 5." Presented by Coast 2 Coast Mixtapes and Blindside Inc., and hosted by DJ Epps, it is now available for free download. "Built 2 Last Vol. 5" features Wilo on tracks with guest artist appearances from Benzino, No Fake, Freeway, Hoeeknapper, Lil Pup, Young Action, and Halo.
Wilo a.k.a Wilo.Shotwell, WILO305 and Da' Wheel Chair Bandit, is from Richmond Heights, FL. Wilo is an acronym for While I Live On—representing his attitude toward life. Wilo has experienced many personal trials and tribulations through out his life, having sustained a major neck injury while playing football for Miami Killian Senior High. His injury was a life-changing event; at first he struggled with the new challenges his injury presented. Fortunately, he has great intestinal fortitude, a strong desire to excel, and a team of real supporters who all have his back. Wilo's injury put his life into perspective at a young age; after recovering, his swag was ridiculous. Life has taught him that most difficulties are overcome through your approach. Like he always says, "I am the master of my emotions, so while I live on, I'm still praying, still hustling, still grindin' but most of all, still smilin'."
Wilo first found his passion for hip hop as a teenager, when his brother Alvin Shotwell (R.I.P.) gave him the record "The Message" by Grand Master Flash and the Furious Five. From there, he knew he wanted to be a part of hip hop. As a teenager, he began to write lyrics of his own. The streets have since embraced his music and the whole Blindside Inc. movement.
"Built 2 Last Vol. 5" is available for free streaming and download at http://coast2coastmixtapes.com/mixtapes/mixtapedetail.aspx/wilo-built-2-last-vol-5-hosted-by-dj-epps