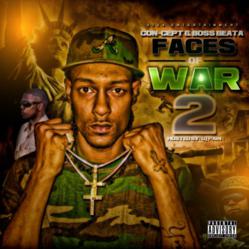 Miami, FL (PRWEB) April 08, 2012
Rap artist Con-Cept recently released his mixtape "Faces of War 2" along with Boss Beata. Coast 2 Coast and 9354 Entertainment present the project, which is hosted by DJ Pain 1. It is now available for free download. "Faces of War 2" features Con-Cept on tracks with guest artist appearances from 20, and Hood. Production credits include Boss Beata, DJ Pain 1, and Ill Beatz.
Chicago artist Con-Cept has always had a love for music and spoken word. He started out writing poetry early on as a way to put his thoughts and feelings out into the open. Once he reached high school, he started jumping into freestyle sessions with friends, and has been taking his music seriously ever since. Some people are skilled at building cars or bikes; Con-Cept loves to create quality—potentially classic—music. His first solo project was released in 2009, titled "The Next Best Thing." Feeling as though we are fighting for survival in this world and hip hop is fighting to remain in existence, the "Faces of War" mixtape series is Con-Cept's way of going to war, using his music as ammunition. He gives his listeners every face he has—different emotions and vibes that pull them into his world.
Since releasing the first in the "Faces of War" series in September 2011, Con-Cept has been featured on a number of Coast 2 Coast Mixtapes and "Get Your Buzz Up Midwest Edition VOl. 2." He is putting the finishing touches on his next project, "Destined for Greatness," which is hosted by DJ Pain 1 and set to drop in May 2012.
"Faces of War 2" is available for free streaming and download at http://coast2coastmixtapes.com/mixtapes/mixtapedetail.aspx/concept-faces-of-war-2?utm_medium=twitter&utm_source=twitterfeed