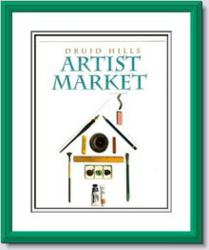 Atlanta, GA (PRWEB) April 09, 2012
One of Atlanta's early spring artist markets, the Druid Hills Artist Market is fast becoming a jewel among markets and an eagerly anticipated event of the season. In its eighth year, The Druid Hills Artist Market is a juried, indoor and outdoor market featuring high caliber works in a wide price range. The Market is located in the historic Stonehenge Mansion at 1410 Ponce de Leon Avenue, now home of St. John's Lutheran church.
Approximately 40 artists, many from the Druid Hills neighborhood, will be represented in numerous mediums including paintings in oils, watercolors and acrylics; jewelry; pottery; photography; wood turning; new and vintage textile art.
This year's exhibit also features a special collection of paintings created by chimpanzees as part of the Children of Conservation, a global organization founded by Michele and Kerry Stumpe, promoting wildlife conservation in third world countries. Their projects are designed to have immediate but long-lasting impact. They focus, not only on the animals themselves, but also on the education and well being of the people fighting for their protection and the people in the communities surrounding their habitats.
Artist Market dates and hours coincide with the Druid Hills Home and Garden Tour on Friday, April 20: Saturday, April 21 from 10:00 AM to 5:00 PM, and Sunday, April 22, from 1:00 until 5:00 PM. (Note: Credit cards accepted by some artists. Cash or personal checks recommended.)
Admission to the Artist Market is free. Tickets for the 2012 Druid Hills Tour of Homes and Gardens can be purchased in advance: http://www.druidhillstour.org.
Proceeds from the tour and the market benefit the Druid Hills neighborhood, Frederick Law Olmsted's preserved residential suburb, by supporting all aspects of historic preservation, including contributing to the preservation and development of green spaces in this renowned National Register district.
About The Druid Hills Civic Association:
The Druid Hills Civic Association was founded in 1938 to preserve Atlanta's Druid Hills neighborhood and to protect the unique heritage of the greenscape and architecture. The Association carries out these responsibilities by exercising vigilance in zoning matters, maintaining a liaison with local governing bodies, informing the citizens of community problems, and promoting the general welfare of the community for the enjoyment of its residents today and in the future.