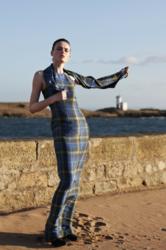 "Iona Crawford is a shining example of the beauty and elegance which is trademarks of the Best Scotland has to offer, its people and their visions of design" said David Campana, Prince of Scots Vice-President.
New York, NY (PRWEB) April 10, 2012
Prince of Scots kicked off Tartan Week in sophisticated style with the premiere of Iona Crawford's Timeless Elegance Collection. A star studded tartan themed New York Fashion Runway featured fashion designers and celebrities including Vivienne Westwood, Matthew Modine, Kelley MacDonald, Nick Graham, Jill Hennessey, B-52's Fred Schneider, Iona Gruffudd, Miss Scotland Jennifer Reoch, Mathew Settle and Wendy Williams. From Scotland With Love was hosted at the Rock-Star Glam Liberty Theater in Times Square.
Tartan Week is a tribute to Scottish American Culture and the contributions of Scottish Americans have made in the United States. The celebrations will run through April 14th with Tartan Day Parade down Sixth Avenue. Meanwhile the streets of New York will be abuzz with Scottish Trade opportunities sponsored by the Scottish Government, Visit Scotland, and Scotland Re-Designed.
Prince of Scots has partnered with Scottish Council for Development and Industry and Cloch Solicitors to sponsor the Inaugural Scotland/USA International Creative Business Conference 12 April 2012 at the Roger Smith Hotel. The conference for Scottish Businesses will introduce opportunities to expand/explore trade in the United States.
"We are pleased to partner with Scotland's business culture in efforts to bring the Best Scotland has to offer to North America," said Tim Danser, President of Scots.
Crawford's Autumn Winter 2012 Timeless Elegance Collection was the finale collection on the Runway at the Tartan Week Event. The collection was the designer's first creative foray with Scotland's most internationally celebrated medium which is of course, tartan.
The collection represents an elegant, contemporary, timeless yet forward thinking take on the rich heritage of Scotland. Iona collaborated with the Official Scots Italian tartan of Clan Italia, which is the recognized tartan of the Italian Government. A balance of delicate printed silks dressed with tailored garments in pure new wool allows the tartan elements to accentuate the clean lines and strong silhouette of each piece. The delicate printed silks presented with the tartan represent new contemporary painterly artwork translated for the runway.
The collection draws inspiration on the dramatic turn of the Scottish seasons; from the majestic pink springtime sky at dusk to the breathy ice-white frost on a bitter winter's morning. Kaleidoscopic heron prints in neon pink and midnight encourage the eye to wander around the body whilst a subtle dapple grey mare print adds an element of satire as the viewer suddenly identifies the soft, dainty motifs as mirrored horses. Flashes of emerald green set against a swirl of blues depict a handsome peacock; the tones of his bold feathered attire perfectly complimented by the vivid Scots Italian Tartan.
"Maintaining the refined feminine silhouette throughout the collection, colorful print placement and exploration with the striking Scots Italia Tartan create an exciting new vibrancy to my label's trademark elegance," said Iona Crawford.
"Iona Crawford is a shining example of the beauty and elegance which is trademarks of the Best Scotland has to offer, its people and their visions of design," said David Campana, Prince of Scots Vice-President.
About Prince of Scots
Prince of Scots is the evolution of style. In a world of mass where every brand looks the same, Prince of Scots has taken a step back to reflect on the beauty that inspires your senses. We search the globe for a fresh influence, unique colors, new silhouettes, and a bespoke flavor. Every item or piece an exclusive work of art. Life is about moments in time.
About Tim Danser
A Fashion Industry Executive skilled in creating "The Next Big Idea." While a student at West Virginia University, he created the school's first pin up calendar, Faces of WVU. Danser has been credited with many "first" in the industry including "Why Rent When You Can Own Tuxedo" at JCPenney and "Dad Wants Free Gasoline" at Sears.
Singular product innovations included the world's first machine wash/tumble dry suit at JCPenney and the world's first Eco suit at Sears. Serving as Vice-President of Marketing at Bagir International, he has been successful at turning the company around, launching Simon Carter in North America while making creating Red Carpet Brands.
Today Danser brings a new global source of supply, a new business strategy to keep your business competitive, and new designers and new talent which create reasons to buy.