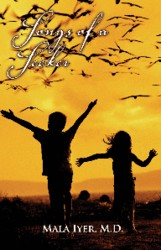 (Mala) Iyer's deep-rooted spirituality shines through her soulful poetry and stories, filled with imagery of love and praise of God.
Port Jefferson, N.Y. (PRWEB) April 12, 2012
Putting her own spin on her profession, a child and adolescent psychiatrist examines the connection between faith and healing through the eyes of a physician. Mala Iyer's new book expands what began as a series of notes she posted on Faithlink, an Internet community of interfaith exchange of which she was administrator. The book is a collection of thoughts, feelings and encounters with patients that left the author "with a reverence and a respect for the power of faith and the beauty and resilience of the human spirit," she writes.
"Songs of a Seeker" features three sections: a series of songs or tales that reflect feelings and intuitive understandings that emerge from meditation, thoughts that the author had after specific events, and the final section that gathers everything together, describing young patients and how faith and love can provide powerful healing when added to traditional treatment. Dr. Iyer's deep-rooted spirituality shines through her soulful poetry and stories, filled with imagery that reflects God's love.
Dr. Iyer's interaction with a group of deinstitutionalized psychiatric patients, for instance, brings the realization that it truly is more blessed to give than to receive. A young man who has a wife, baby and job who had been a troubled, angry adolescent "demonstrates the power of love and believing in someone," Iyer writes. Her passion for helping children regain their capacity for joy, love and compassion also shows in her story about Erik, a skateboarder with a tendency to be callous and judgmental. She challenges him to treat a new boy at school who is a social outcast with kindness – an act of true courage. He does just that and returns to tell about his success. These stores and others showcase what can happen when medical treatment includes love and faith.
Author Mala Iyer, M.D., a child and adolescent psychiatrist, works with children and families in private practice after spending more than 20 years in hospitals and clinics. She has two grown sons of her own.
----------
For additional information, please visit http://www.songsofaseeker.com.
Songs of a Seeker
Mala Iyer
Dog Ear Publishing
ISBN: 978-1-4575-0786-1 236 pages $12.99 US
Available at Ingram, Amazon.com, Barnes & Noble and fine bookstores everywhere.
About Dog Ear Publishing, LLC
Dog Ear Publishing offers completely customized self-publishing services for independent authors. We provide cost-effective, fast, and highly profitable services to publish and distribute independently published books. Our book publishing and distribution services reach worldwide. Dog Ear authors retain all rights and complete creative control throughout the entire self-publishing process. Self-publishing services are available globally at http://www.dogearpublishing.net
and from our offices in Indianapolis.
Dog Ear Publishing – self-publishing that actually makes sense.