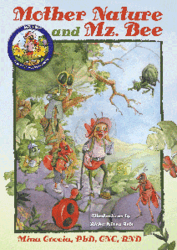 The author aims to educate children by promoting the importance of well-being through their relationship with nature and their environmental awareness.
WASHINGTON CROSSING, Pa. (PRWEB) April 12, 2012
It's normal for children to be curious about the natural world around them. This latest book in the Mz. Bee series capitalizes on this curiosity, fueling it with gentle lessons from a retired schoolteacher – who just happens to be a bee. Mz. Bee and her companions –Druker Dragon Fly, Ernie Ant, Dot Lady Bug and Wee Worm – look at nature differently than most. With Mz. Bee acting as tour guide, her companions discover the wonders of the world.
"Mother Nature and Mz. Bee" features an easy-to-read story that lets young readers discover their own ways to relate to the natural world while developing tendencies to care for the land, oceans, seas and the sky. In a subtle way, the author aims to educate children by promoting the importance of well-being through their relationship with nature and their environmental awareness. Other books in this ongoing series focus on the world, the environment and wellness, including food shopping, nutrition, and exercise.
In this latest book, the characters canoe "down the rushing fresh waters that make up all the world's rivers and streams," Coccia writes, and they set up a telescope and open their eyes wide to study the gigantic sky. Along the way, they frolic with dolphins and whales. Richly detailed illustrations by Richa Kinra Arts show the delight the characters experience on their tour, which ends with a delightful roller coaster ride on a rainbow.
This is the seventh book in the Mz. Bee series by author Mina Coccia, who has a Ph.D. in holistic health and is a certified nutritional consultant and traditional naturopath. She has an active practice consulting in health and wellness near Philadelphia and is an adjunct faculty member at the Global College of Natural Medicine. Coccia serves on an outreach committee for visual impairment begun by the Massachusetts Eye and Ear Institute. She belongs to the American Association of Drugless Practitioners, American Association of Nutritional Consultants, American Naturopathic Medical Accreditation Board, the National Registry of Naturopathic Practitioners and National Association of Professional Women. Illustrator Richa Kinra Arts has illustrated more than 60 children's books, adult fiction and spiritual poems.
----------
For additional information, please visit http://www.mzbeebooksforyoungreaders.com.
Mother Nature and Mz. Bee
Mina Coccia
Dog Ear Publishing
ISBN: 978-1-4575-0709-0 36 pages $14.95 US
Available at Ingram, Amazon.com, Barnes & Noble and fine bookstores everywhere.
About Dog Ear Publishing, LLC
Dog Ear Publishing offers completely customized self-publishing services for independent authors. We provide cost-effective, fast, and highly profitable services to publish and distribute independently published books. Our book publishing and distribution services reach worldwide. Dog Ear authors retain all rights and complete creative control throughout the entire self-publishing process. Self-publishing services are available globally at http://www.dogearpublishing.net
and from our offices in Indianapolis.
Dog Ear Publishing – self-publishing that actually makes sense.