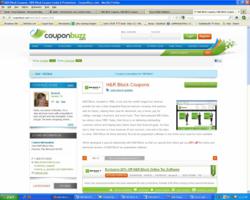 With H&R Block coupon codes...our site visitors can access some of the best tax preparation software on the market today.
Houston, TX (PRWEB) April 09, 2012
With the April 15th deadline for filing personal income taxes rapidly approaching, individuals who have not yet taken the leap are starting to get a little anxious about how much it's going to hurt. For those who are concerned about taking a financial hit, CouponBuzz.com is featuring some great H&R Block coupons that can help lessen the blow.
Although an H&R Block coupon for the H&R Block At Home tax preparation software won't actually reduce the total amount of taxes owed by a taxpayer, it can make a significant dent in the costs of tax preparation. In addition to saving money on the initial filing cost, using state-of-art tax software like H&R Block can help individuals discover an impressive amount of tax savings that they might not otherwise have been aware of. The H&R Block Maximum Refund guarantee ensures users they will get the very highest tax refund they are entitled to, or the cost of their tax preparation is free.
"We know that taxes are a sore point with a lot of individuals. Filing taxes can be a scary moment of truth, especially if you are concerned about potentially owing further taxes," said Justin Bowen, CEO of CouponBuzz.com. "With H&R Block coupon codes like those we are currently featuring, our site visitors can access some of the best tax preparation software on the market today."
H&R Block At Home tax preparation software is constantly updated with the multitude of changes that happen each year in the U.S. tax code. The tax experts at H&R Block know exactly how to help individuals determine the most beneficial status to file under, make the most of their deductions, and take advantage of each and every tax break to which they are entitled. The H&R Block software enables users to identify and implement money-saving tax strategies and helps them minimize their total tax burden in ways that might seem almost magical.
Even for individuals reluctant to prod the sore spot in their budget that is 2011 taxes, April 15th is still rapidly approaching. It's time to rip the band-aid off and apply a soothing H&R Block coupon to lessen the sting. Visit the new H&R Block section at CouponBuzz.com to see all of the current coupons and special offers at http://couponbuzz.com/handr-block-coupons.html.