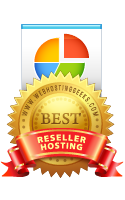 Considering reseller hosting plans with HostGator start at only $25 a month, and come loaded with a whole host of unlimited features and quality software compatibility, recognizing HostGator as our winner was easy
Newport Beach, California (PRWEB) April 11, 2012
Web Hosting Geeks (webhostinggeeks.com) announced today the winners of its annual industry's best panel, revealing HostGator (hostgator.com) as the recipient of its prestigious "Best Reseller Hosting" position for 2012.
The category of "Best Reseller Hosting" is a category designed to recognize one web host that provides the best reseller hosting experience in the business. Specific considerations for the category included overall price and value, combination of feature sets in regards to initial price, amount of utilities awarded to the host's user-base, and availability of quality technical support.
"Considering reseller hosting plans with HostGator start at only $25 a month, and come loaded with a whole host of unlimited features and quality software compatibility, recognizing HostGator as our winner was easy," said Artem Minaeff of Web Hosting Geeks. HostGator was also selected for its unbeatable, 24/7 technical support and reliable server up-time.
HostGator is an industry leader in the world of reseller hosting, offering competitively priced server spaces that provide more disc space, larger bandwidth, and more free features than most other providers. The company's five-tier pricing panel offers more than enough options to meet the needs and demands of any sized operation, and it comes stock with a wealth of informative tutorials to speed the start-up process. HostGator was also selected as the winner of "Best Reseller Hosting" in 2012 for its 45-day money back guarantee that ensures customer satisfaction.
The Houston-based web hosting provider is one of the industry's largest companies, offering world renowned service at exceptional prices. The company strives to provide a rewarding reseller experience that's both easy to maintain and cost-effective. HostGator's emphasis on easy installation and management makes it the ideal company for the 2012 selection in "Best Reseller Hosting."
This was also mentioned in a post on the Geeks' Blog.
About Web Hosting Geeks: Since 2004, WebHostingGeeks.com has been independently monitoring, reviewing, and rating web hosts. The editors leverage their industry expertise, as well as the web hosting reviews from thousands of their readers, to evaluate web hosts. In addition to their highly respected annual hosting awards, they also publish helpful blog posts and infographics on web hosting, social networking, and the state of the internet today.
Contact:
WebHostingGeeks.com
1024 Bayside Drive, Suite #302
Newport Beach, CA 92660