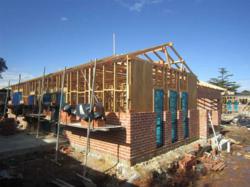 Buying off the plan carries such a huge risk because the investor relies only on market estimates and forecasts, which are not always reliable.
(PRWEB) April 10, 2012
Rick Otton is known internationally as an innovator and has been widely applauded for his creative property investment strategies. In a recent podcast, Mr. Otton revealed the pitfalls of buying "off the plan" and the possible remedies for the problems associated with this strategy.
Buying off the plan is a common practice in the property market where homeowners or investors buy a property when the development is still in the planning stage and has not yet been constructed. This is unfavorable for the purchasers, according to Mr. Otton, because they cannot accurately estimate the actual state of the property market by the time of project completion.
"Most often than not, the property depreciates in value as time passes by, and the buyer goes into negative equity. They usually borrow the full amount to buy off the plan but the property's worth is lesser than the amount they borrowed. The property then becomes negatively-geared," explained Mr. Otton.
This practice is a common trend in modern real estate investment and has its benefits, like cheaper price, according to Mr. Otton. However, this advantage comes from the fact that this strategy carries huge risks and problems depending on a lot of factors, including the type and location of the development, Mr. Otton said.
"Our case study shows that investors, who buy properties off the plan, wish to gain profit by reselling the property after completion, hoping that its value would've increased by that time. But with the current economic downturn, investors discover that the property has devaluated, and they are left with a property that has more debt in it than what it's worth," Mr. Otton revealed.
Creative Strategies Saving the Day
Mr. Otton's podcast also reveals some secrets in real estate investment which most traditional lenders wouldn't want people to know about. But Mr. Otton believes that embracing rent to buy strategies is the answer for those who want to enter the property market.
Rick Otton is known for his introduction of creative property options which can be applied especially during difficult economic times. He travels to different countries and teaches students through his bootcamp and real estate training. These strategies are also available on his website CeativerealEstate.com through podcasts.
You can listen to the free podcasts on http://www.creativerealestate.com.au
About CreativeRealEstate.com
Creative Real Estate is a series of free Podcasts hosted by Rick Otton and accompanied by his side-kick student Ben Chislett. Its goal is to revolutionize the way any first home buyer or property investor buy and sell property and empower where the traditional real estate system has failed even if you don't have a deposit, bank finance, the house prices are too high or you have no property knowledge at all.
About Rick Otton
Rick Otton is a self-made multi-millionaire and real estate consumer advocate, property investor and business owner.
He is the founder and director of We Buy Houses Pty Ltd, a leading property enterprise which has successfully expanded into the international markets of Australia, United Kingdom, New Zealand and USA.
In 1991, Rick Otton uncovered an innovative strategy of buying and selling real estate and went on to amass a portfolio of 76 properties in his first 12 months of investing. Rick buys, sells and trades property, using little or none of his own money, and structures transactions to create positive cash flow.
Since 2001, Rick has taught nationally and internationally over 35,000 students how to buy, sell and trade residential property without getting bank loans or acquiring debt, using little cash and minimizing risk.
Many of Rick's students have been able to create wealth, buy their first home, restructure a negatively geared property to make it cash flow positive and build their property portfolio year after year.
Rick's mission is to transform the way people buy and sell property - to empower others with the knowledge there is another way. He regularly meets with leading government officials who seek his advice on solving the housing affordability crisis.
His philosophy has been highlighted in various Australian TV shows. He appeared in the ABC documentary 'Reality Bites' as well as 'Today Tonight' and 'Hot Property'.
Rick has also been profiled in numerous national and international magazines and books as he shows everyday people how to create wealth in real estate, without bank loans or saving large deposits.
Learn more about Rick at http://www.creativerealestate.com.au