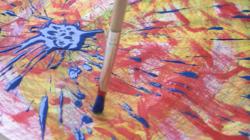 Peace be with you.
Wisconsin Dells, WI (PRWEB) April 09, 2012
As worldwide excitement continues to build in anticipation of International Forgiveness Week and Weekend of Perfect Peace on September 14 – 23, 2012, more and more people the world over, from Berlin, Germany to Bogota, Colombia are making personal pledges for the attainment and experience of Peace; pledges which will be represented as tiles on the magnificent Peace Mosaic, to be presented to the global community in a special ceremony on the United Nations International Day of Peace on September 21.
Event Coordinator Nancy Reid of A Course In Miracles International describes the Peace Mosaic as an ever-expanding collage of colorful "tiles" from all over the world, each representing an individual's pledge to take some action, however small, for the attainment of peace. The action can be something as simple as a prayer or the lending of a helping hand.
The Peace pledges are then written, drawn, painted, sculpted, etched, glued or otherwise visually represented on a square piece of paper (or other material) for inclusion in the Peace Mosaic.
In making the commitment to Peace, contributors to the Peace Mosaic reported experiencing a sense of freedom and empowerment. Some of the comments made in this connection include:
"I really felt, for the first time, that I could make a difference."
"This is my world, and I no longer want to be in conflict. I choose to love, I choose to forgive and I choose to have Peace. I want the Peace of God."
"I feel truly connected to everyone."
"The creation of my mosaic tile really helped me focus my mind on my pledge, and enabled me to infuse all my love into the tile, so that anyone who looked at it would share the peace and joy I experienced in making it."
Children often wonder how big the mosaic will be:
"If everyone in the world joins in, there won't be a wall big enough to hold it!"
"I loved making my pledge and painting a tile for it. This is the first time I have ever thought about the attainment of Peace, and making a commitment to it. Peace be with you"
The Peace Mosaic is open to everyone regardless of nationality, age, gender, educational level, religious or political affiliation.
For more information about the Mosaic, and how you can participate, visit: http://www.forgivenessweek.org/peacemosaic.php