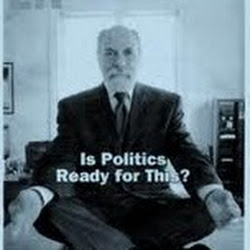 Mr. Margolin says that he knows firsthand just how frustrated people are right now, but he is confident that our nation's problems are quite fixable.
Santa Monica, CA (PRWEB) April 16, 2012
"If we are successful in running a campaign that is exclusively financed by micro donations, it will have an enormous impact on the entire election process going forward. There will be no more tolerance for politicians who compromise their principles in exchange for campaign contributions." Bruce said during a recent interview.
For the remaining weeks until the primary, Mr. Margolin will be sharing his message and joining the voters of CA's 33rd district on the yoga mat. The candidate will be attending a different yoga class in the district each day to emphasize the need for balance in our political system.
"With vast privatization, endless wars, climate crises, massive wealth inequality, painful cuts in public programs and continued bailouts of "too big to fail" banks, the need for balance has never been more urgent." Bruce added.
The candidate points out that it is largely due to the financing of political campaigns which causes the balance of power and influence to end up too concentrated, and in the hands of too few. This is why, he explains, his campaign is asking people to keep their donations small, then in lieu of greater financial contributions, give some time and some heart, the most valuable gifts of all.
The yoga tour is part of a last minute sprint to the starting line. The starting line being the June 5th open primary where eight Californians will square off for the seat expected to ultimately go to a 38 year congressman, one who normally runs fairly unopposed. The top two vote recipients of the primary election will advance to the November 2012 General Election ballot.
This is a year for real change figures Margolin, whose last minute bid he explains came about as an extension of the Occupy Spirit which he and his family have been experiencing along with much of the nation since last fall; Mr. Margolin says that he knows firsthand just how frustrated people are right now, but he is confident that our nation's problems are very fixable.
While it remains to be seen, if people can actually bring some balance back to our democracy using micro-donations and social networking, the $10 & 10 Minute Campaign may well turn out to be a perfect solution for our times. http://www.MargolinForCongress.com