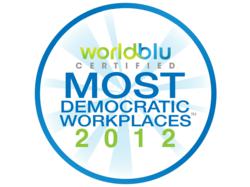 For us, running a business means as much keeping employees happy as it is about keeping clients happy.
Singapore (PRWEB) April 11, 2012
Today, the prestigious WorldBlu List of Most Democratic Workplaces™ 2012 recognized 48 organizations at the forefront of alternative organizational practices including Statsit, Groupon and Zappos. Organizations were evaluated on 10 principles with a goal of promoting transparency, integrity, and accountability in the workplace. Statsit is the only company in the global research industry to get this award.
CEO Mikko Kotila says, "We've been serious about doing things differently from the beginning. For example more than half of our employees are Statsit shareholders. Our core thinking is simple: make money by working with the right people and have fun while you're at it. When employees stay longer, they tend be able to contribute more to the client's business. With ownership, people are more likely to put themselves on the line for the client, which is not at all a common attitude in the risk averse, institutionalized research industry. For us, running a business means as much keeping employees happy as it is about keeping clients happy."
About Statsit
Founded in 2009 and specializing in servicing clients in the APAC region, Statsit works with many of the world's leading brands and agencies benefit from Statsit services. Including 20 out of the top 50 global advertiser brands and such agency networks as BBDO, Dentsu, and OMD. Statsit's specialities include understanding the digital consumer and helping its clients to increase their sales through Statsit's propriety path-to-purchase modeling framework. Statsit brings to the industry a unique combination of creativity, strategy, and cutting-edge digital age thinking.
About WorldBlu
Based in US and UK, WorldBlu specializes in organizational democracy and freedom-centered leadership, with organizational and individual members in over 70 countries worldwide. Founded in 1997, WorldBlu's provides services, information, and tools for organizations to help promote democracy in the workplace. http://www.worldblu.com.