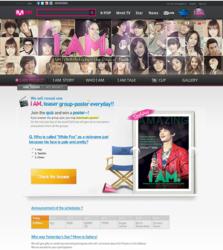 (PRWEB) April 10, 2012
The CJ E&M Online Business Division (CEO: Kim Seong-su) announced on April 10 that it would open the official homepage of the movie, 'I AM.' (http://mwave.interest.me/iam/index.m) and for the first time unveil posters of artists under the management of SM Entertainment.
The movie, 'I AM. : SMTOWN LIVE WORLD TOUR in Madison Square Garden' is scheduled to premiere in May and describes the story of 32 artists under SM growing to be global singers including Kangta, BoA, TVXQ, Super Junior, Girls' Generation, Shinee and f(x).
Global K-pop fans will be able to get information on artists or watch teasers casting them at Mwave.interest.me
Before its release, GlobalMnet.com will unveil posters of artists under the management of SM, including Kangta, Boa, TVXQ, Super Junior, Girls' Generation, Shinee and f(x). By answering correctly to the quiz, visitors to the website will be able to download images of posters in HD that will be uploaded over seven days, a new one being available every day. For the present, Shinee and f(x)'s posters are available. Screen savers with the image of 32 artists are also scheduled to be uploaded.
Last December, GlobalMnet.com opened website for 'I AM.' in Korean, English, Chinese, and Japanese and held an event for K-pop related UCC from fans around the world, including cover dance and songs. Over 2,000 videos were submitted for the event from North America (13.6%), Indonesia (10.1%), the Philippines (6.7%), Singapore (4.5%), Malaysia (4.4%), Taiwan (3.9%) and England (3.7%). Some of them will appear in the movie.
Jin Min-jung, online business director, said that "GlobalMnet will make efforts to provide an array of contents at the frontline for promoting the K-pop culture."
GlobalMnet.com was launched last September. It has led in spreading the K-pop culture with various contents, and is steadily growing. It is growing together with increasing number of visitors from Japan, China, United States, Taiwan, Indonesia, Malaysia, the Philippines, Thailand, and Hong Kong.