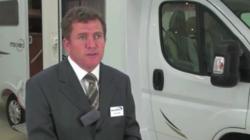 You'll soon know how to enjoy a brand new motorhome from less than £3.55 per day!
London, UK (PRWEB UK) 11 April 2012
The appeal of a motorhome is the freedom and the flexibility to choose your own holiday with your particular pastime, be it mountain biking, canoeing, walking, or just taking in the scenery.
There was much talk about 'The Golden Age of Motorhome Hire' at the Motorhome, Caravan and Camping Show in London in February 2012. Andrew Hughes of Cambridge based motorhome hire company Motorholme said:
"We termed right now as the beginning of 'The Golden Age of Motorhome Hire' kicking off with the Euro 2012 UEFA Finals, which are in Poland and the Ukraine where you can use a motorhome to get to the different venues and games. Followed up nicely by the Olympics, which is in August, and then the Paralympics that runs on into September."
There is certainly a trend these days towards keeping your accommodation versatile for these events with multiple venues and a motorhome is an ideal solution.
In addition to the above there is also a growing trend for people just wanting to get back to camping, but in a more luxurious way. Nick Lomas from 'The Caravan Club' said:
"In the last ten years our membership alone has gone up by about 50,000 households which means 100,000 new people coming into the pastime, so it definitely is growing. Motorhoming in particular is the biggest growing sector and that used to be about 20% of our membership and for new members now it's about 30%, so it's definitely the sector that's seeing a growth at this current time...lots of people that previously thought about owning a home abroad are now thinking about motorhomes as a way to tour all over the UK and all over Europe as well."
Nick's words are so true, there are still plenty of people whose idea of getting away from it all is to hire a motorhome, put it on a cheap ferry to France and head off into Europe. At the Motorhome, Caravan and Camping Show, artist and relentless motorhomer Susan Clements said:
"Whether it's your first motorhome trip abroad or you are an experienced motorhomer in Europe, the lure of the French Riviera as a holiday destination is undeniable. The resorts of Nice, Antibes and Cannes offer a wide variety of beautiful beaches to suit all tastes, a mild climate with many hours of sunshine plus fabulous food and wine. Yes, you can spend a lot of money in the south of France if you want to, but with a motorhome you don't need to! If you can travel before the high season period you will be able to take advantage of lower prices on the campsites and avoid some of the crowds."
So it does seem that this is indeed The Golden Age of Motorhome Hire and for those who fancy using a motorhome whenever they like, Andrew Hughes of Motorholme has come up with a new idea called 'Options', where he reveals that:
"You'll soon know how to enjoy a brand new motorhome from less than £3.55 per day!".
The scheme will be unveiled at their open day on the 28th April 2012 and seems to be a closely guarded secret. But you can apply for the information in the form of a free downloadable guide. Andrew says:
"Motorhome Options has been created by the hire experts - and applies whether you're thinking about buying a motorhome, never thought you could afford one, or even if you don't have room on your driveway! You'll find the free guide contains a wealth of information about how to enjoy a brand new motorhome without any of the hassle. No finance, credit checks or deposit, just one low, fixed monthly fee - it couldn't be easier or cheaper to enjoy a brand new motorhome!"
You can download the guide here: http://www.motorhomesdirect.co.uk/options