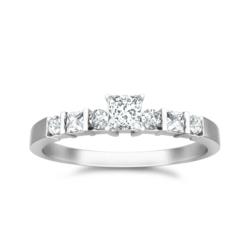 From classic solitaire engagement rings to modern diamond solitaire rings, our customers can definitely find their dream diamond ring at a price to match their wallets
Cockeysville, MD (PRWEB) April 09, 2012
Couples looking to seal their love with diamond engagement rings have a new reason to celebrate. They can now find beautiful Solitaire Engagement Rings with princess cut diamonds and round diamonds in their choice of 10k, 14k and 18k Gold. The prices start from only $229 onwards. This is all part of the new collection of solitaire rings launched by the leading online diamond rings retailer, JewelOcean.com
The solitaire rings collection on the website features many different designs for a customer to choose from. The customers can find antique solitaire rings such as beautiful hand engraved 1/3 carat diamond solitaire ring on JewelOcean starting from only $329. Customers looking for more contemporary classics can find beautiful 4 prong princess cut solitaire engagement rings starting from only $249 onwards. "From classic evergreen designs to modern settings, our customers can definitely find their dream solitaire ring at a price to match their wallets", says Mr. Mathew Bruno, manager at JewelOcean.com.
Customers looking for Round solitaire engagement rings would also not be disappointed. ¼ carat Round solitaire engagement ring starts on the website from only $279 onwards. Also available for a limited time only is massive 1 carat Round diamond solitaire engagement ring at a sale price of only $1099. "Our 1 carat Round diamond solitaire rings are certainly very popular with our customers. With limited inventory though, the collection would be soon sold out", says Mr. Bruno.
JewelOcean has a sleek website design offering customers a complete customization option, to choose their dream solitaire rings at cheap prices. The diamond rings collection is refreshed very often as styles are sold out very fast. Customers looking for Diamond Solitaire Rings would definitely be spoilt for choices of different ring designs, with many at sale prices.
JewelOcean.com specializes in retailing cheap diamond engagement rings and bridal sets. With its major customer base in USA and Canada, the company is witnessing a double digit growth year on year. Excellent customer service, free shipping and refund policy has helped JewelOcean.com garner countless positive customer reviews and ratings. To find out more about the diamond rings retailer, please log in to the website at http://www.jewelocean.com