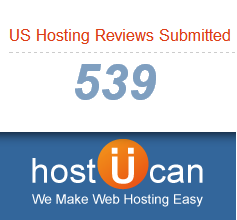 HostUCan.com Reaches a Milestone with 500 Hosting Reviews!
(PRWEB) April 10, 2012
HostUCan.com, an industry leading web hosting review and search platform, today announced it had reached a milestone with 500 web hosting reviews collected in its website.
As a place for people to review and rate their hosting solution, HostUCan.com has put a very strict process in place to make sure all the reviews are submitted by the real user of the hosting solution reviewed.
"We want to make HostUCan.com as a trusted place for people to find the honest and real web hosting reviews. We audit each review manually to remove those spam reviews. Our overall approval rate is around 35%, which shows how many spams review online if a site doesn't have an effective anti-spam process", said by Ray.Zheng, the founder of HostUCan.com.
"It takes us around 1 year to collect 500 web hosting reviews. It looks like a little bit long, but it's really reasonable as collecting reviews from real webmasters is not an easy task. And we do want to celebrate on this milestone with 500 web hosting reviews. Now, we have built up very good reputation in the industry, we hope more webmasters could share their hosting experience in our platform, which will help the other webmasters to make a right choice when hosting their web sites."
HostUCan.com also generates a series of reports based on the reviews to present a web host 360 degrees, which include customer type distribution, recommendation rate, best hosting models, and etc.
As said by HostUCan.com, the customer review is the important factor when it ranks a web hosting in its industry leading web hosting search tool. It now has opened the interface for each web host to submit their company and web hosting solutions to its search engine by following the guide at hostucan.com/article/guide-on-maintain-company-data-in-hostucan.
About HostUCan.com
HostUCan.com is a need-centric web hosting review and search platform. Their powerful products search engine could help webmasters find the best hosting solutions based on their hosting needs. HostUCan is also a place for webmasters to share their hosting experience and to seek information from other experts.