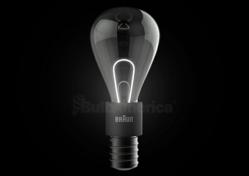 The chances of the Lit LED bulb blowing a fuse are greatly diminished as the optical fiber is illuminated by LEDs installed at the base of the bulb
Brooklyn, NY (PRWEB) April 10, 2012
Though incandescent bulbs are currently available at BulbAmerica, they are soon going to be phased out. They will always be missed for their retro look that fits in perfectly with a period décor. Getting rid of these high energy consuming fixtures might be the best way to promote a movement that is focused on smarter and more energy efficient lighting solutions and fixtures.
Scores of lighting designers and customers who love the look and feel of these incandescents need not fret or fume over their expected disappearance as designer Elie Ahovi has come up with a new and interesting Lit LED bulb that combines the most sought after elements of both the incandescent bulbs as well as the CFL lamps. Provider of expert lighting solutions and America's leading wholesale retailer of a wide array of lighting products, BulbAmerica believes that this bulb truly represents a product line of next generation smart lighting bulbs that are definitely worth the wait.
This new optical fiber bulb is the world's first light bulb that uses hybrid technology LED. However, while the revolutionary optical fiber is shaped like the filament of a regular incandescent bulb, it is also as energy and environmentally friendly as any other CFL. A lighting expert at BulbAmerica.com explains, "It is products like these that make being a part of the industry extremely exciting, enriching, and awarding" adding that "The chances of the Lit LED bulb blowing a fuse are greatly diminished as the optical fiber is illuminated by LEDs installed at the base of the bulb."
Shaped like the classic incandescent bulb, unlike CFLs, the Lit LED bulb does not have to be concealed under lampshades and scones and the best part is that it offers the same kind of cost effectiveness and energy savings as the CFLs. Made of clear unbreakable polycarbonate that extends the lifespan of the bulb while protecting it from breakage, the Lit LED bulb is the future of retro style smart lighting.
To know more about this new age bulb that is also perfect for lighting fixture and sockets that are designed for traditional incandescent bulbs, visit http://www.bulbamerica.com or call 1-877-650-0775. BulbAmerica is the largest wholesale provider of quality lighting fixtures and light bulbs in the United States. They have been a part of the industry for almost a decade now and are renowned for offering quality products that include fluorescent, halogen light, LED, CFL, and incandescent bulbs, projector lamps, and various LED lighting options including LED strips.