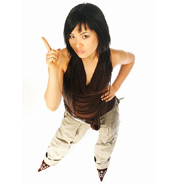 There are still plenty of avenues that can be explored
London, UK (PRWEB UK) 11 April 2012
La Mode assures models not to worry - there are other ways to break into the industry with the help of their new business advice.
http:http://www.lamodelondon.com have had years of experience within the modelling industry, advice and instinct are two of their most powerful tools and how to become a model is second nature to them.
'There are still plenty of avenues that can be explored to find work in the commercial sector of modelling without an agency,' said a spokesperson for La Mode. 'With the economy at a low, modelling agencies are closing at a rapid rate and the existing modelling agencies are not taking too many new faces on their books.'
The key piece of advice which La Mode can impart is whether a model is looking for an agency or not, self-promotion is a hugely beneficial and a way of learning the business to potentially find work.
'You can use your images in attachments or your online portfolio to promote yourself or give out your Z cards to the appropriate people,' continue La Mode.' We recommend that you research a number of model sites with photographers, stylist, makeup artists and industry experts all looking to work with new faces and models starting out in business.'
Offering professional advice and honest opinion, La Mode London knows what is needed in how to become a model. They have all the inside information and aren't at all shy about passing it on to any aspiring model trying to make a go of a new career in the modelling industry. With their business advice page recently opened for business on http:http://www.lamodelondon.com, La Mode goes on to say,
'We offer aspiring models a number of self-promotional tips and business advice to help succeed in the modelling industry. Every portfolio we create will come with a Models Guide PDF to explain how the industry works, the jargon and terminology, tips and tricks of modelling.'
As well as providing superb portfolios for models new to the industry, La Mode also offer professionally designed Z Cards to help a model promote themselves and are of course, always on hand after the photo shoot to give advice to each model, tailoring it to their own individual look.
The model advice company say they are a safe haven and trusted source for models everywhere, and also offer a list of useful sites to visit as well as a whole lot more.