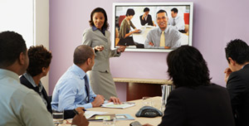 At NAB we will present new satellite delivery solutions, one of which incorporates WIFI, as well as cellular and internet content delivery offerings."
Raleigh, NC (PRWEB) April 10, 2012
Microspace Communications, a premier provider of business satellite networks, will introduce a host of new services at the upcoming NAB Show in Las Vegas, April 16-19 at the Las Vegas Convention Center.
According to Greg Hurt, VP of Sales and Marketing at Microspace, "We have been known for almost 25 years as a top satellite broadcaster for video, audio and data business networks. At NAB we will present new satellite delivery solutions, one of which incorporates WIFI, as well as cellular and internet content delivery offerings." Hurt added, "Both the cellular and internet options fully complement our core offering which has always been cost effective, highly reliable satellite delivery."
The company will highlight its new MICROBURST satellite service. MICROBURST enables a Microspace satellite service user to periodically increase the bandwidth of their satellite channel based on scheduled or short notice requirements for additional bandwidth. According to Hurt, "It's the best of both worlds; our users have the flexibility of increasing their bandwidth for periods of time and only pay for what they use".
Microspace's new CELLCAST service provides a multi-site business with a cellular content delivery or return channel option. Many current applications are calling for multicast satellite distribution of larger media files and the cost effective capabilities of cellular to address the return channel necessity. Microspace expects these hybrid technology configurations to become much more prevalent.
The company has also added an hosted internet solution. Microspace clients are able to use this solution to reach hand-held devices or locations that are not ideal for a satellite delivered signal.
Visit Microspace Communications in Booth SU 5819 at NAB to discuss these and other proven Microspace offerings. Call 919 850 4500 or email: uplink (at) microspace (dot) com for additional information.
Capitol Broadcasting Company, Inc. is a diversified communications company which owns and/or operates WRAL-TV, WRAL Digital, WRAL-FM, WRAL-HD2, WCMC-FM, WDNC-AM, WCLY-AM, Microspace, CBC New Media Group and Wolfpack Sports Properties in Raleigh, NC; WJZY-TV and WMYT-TV in Charlotte, NC; WILM-TV and Sunrise Broadcasting in Wilmington, NC; WRAZ-TV and The Durham Bulls in Durham, NC; and real estate interests including the American Tobacco Project and Diamond View office buildings in Durham, NC.