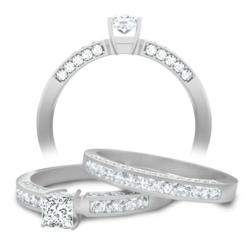 Cockeysville, MD (PRWEB) April 10, 2012
Customers browsing on JewelOcean.com website will find a completely new redesigned collection of Bridal Sets. The bridal ring sets collection on the website has been updated to feature a new look with new styles of different ring designs. The feature showcases exquisite bridal rings with matching wedding bands, made with either princess cut or round cut diamonds and with either 10k, 14k or 18k Gold. JewelOcean believes that potential customers will be tempted with the cheap and affordable prices of bridal ring sets that are available on sale from 10th April, 2012 onwards.
The new diamond bridal set collection showcases many different design styles. The collection showcases 5 new bridal set designs that feature antique bridal ring sets. These unique vintage looking rings have beautiful hand engraving work, which is carved on both the engagement rings and the matching wedding bands. "The antique look of the matching bridal set will definitely make these rings stand out from the rest of the crowd," says Kan Ein, manager at JewelOcean.com.
The new bridal collection also features new three stone bridal set designs. The bridal rings have three prominent center diamonds in either princess cut or round cut shape. JewelOcean believes that the complete bridal set will attract customers who are looking for an alternate to the common three stone designs. The new bridal collection featuring matching bridal set rings and wedding bands is designed to appeal to customers who are looking for beautiful bridal set designs, but want them affordable prices.
Mr. Ein further adds that the bridal ring sets have seen an excellent sales growth, with sales increasing by over 60%, in 1st quarter 2012, as compared to same quarter in 2011. Customers are now looking to purchase matching bridal ring sets instead of just an engagement ring or a wedding band. This has made the bridal set collection, one of the most important sales features of the company. Customers can now order their favorite bridal set on a layaway plan and make payments over time. This feature will be very useful for customers who are interested in purchasing bridal ring sets that are on sale but are unable to afford the complete purchase price.
JewelOcean is a leading diamond jewelry retailer specializing in sale of diamond bridal sets with matching wedding band designs. The company's core strength is in offering affordable jewelry to its customers along with excellent customer service. For more information please view the online bridal set collection at http://www.jewelocean.com/bridalsets.php