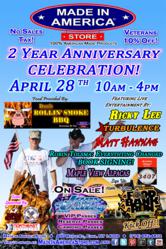 Elma, NY (PRWEB) April 10, 2012
Just two years ago, the Made in America Store in Elma, NY, opened its doors as the first store in the nation to exclusively sell American-made products. It is still the only store with the 100% American Made guarantee, making it the leader of the "Buy American" movement that has swept the country.
So, there are plenty of reasons to celebrate, which is just what owner Mark Andol, his family, staff and legions of loyal customers plan to do!
During the 2nd Anniversary Celebration, customers can shop sales tax free, while veterans and active military personnel enjoy a 10% savings on all purchases.
A very special guest will attend this year's event. Robin Tolsma, a Flight 3407 widow and spokesperson for the families, will sign her newly published memoir, Everything Changed. It is a very personal and compelling story of the aftermath of the Flight 3407 plane crash on February 12, 2009 in Clarence Center, NY.
Everything Changed speaks poignantly from the heart of someone who lost a loved one in the plane crash. Mrs. Tolsma's book is available for purchase at the Made in America Store, which she selected for her first public signing…in her continuing efforts to improve aviation safety for all Americans, by raising public awareness.
As with every special event at the Made in America Store, this April 28th celebration will feature family friendly attractions, including live entertainment by Nashville recording artist Ricky Lee.
Other highlights include Dale's "Rollin' Smoke" BBQ, Maple View Alpacas and the chainsaw artistry of Matt Hannah.
Plus, the 12th Annual Food Bank Run will kick-off at the Made in America Store, beginning with a 10am registration. And, for fans of the annual Jam in the Valley. This year's theme is "Jammin' for Jobs." It's a great opportunity to pick-up a limited supply of VIP Passes, as well as Reservation and Camping Passes.
The 2nd Anniversary Celebration is sponsored by General Welding & Fabricating, Northeast Collision and BuffaloCharities.org, sponsor of the Food Bank Run.
When: Saturday, April 28th
10 am-4pm
Where: Made in America Store
900 Maple Street
Elma, NY 14059
The Made In America Store is located at 900 Maple Road in Elma, New York and is committed to selling 100% American manufactured products. You can visit http://www.MadeInAmericaStore.com for more information or shop our catalog of over 290 vendors that are devoted to producing USA made products. All US military personnel both active duty and retired receive a discount every day. Consumers can also keep up to date news articles, events, photos and contests with Facebook, Twitter, Google+, Pinterest and Tumblr!