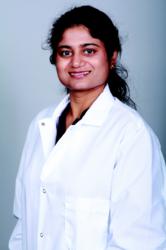 Our dental team provides quality dentistry in a relaxed, friendly and caring environment. We stress patient education so our patients always know what to expect before we perform a procedure. --Dr. Arti Lamba, general dentist at Coast Dental Acworth
Acworth, GA (PRWEB) April 09, 2012
Patients at Coast Dental Acworth will by greeted with a welcoming new décor at their next office visit. The practice, located in the Publix shopping center at 3509 Baker Road east of Cowan Road, was refreshed with bright, modern colors in new carpet, paint and artwork. Dr. Arti Lamba and her team invite the public to join them for open house on Saturday, April 21 from 9 a.m. – 2 p.m. The free event will feature food, music, face painting and prizes. Call (770) 917-8943 for more information.
Dr. Lamba is a general dentist who provides a full range of comprehensive dental services to adults and children starting at age 3. She helps patients get healthy and beautiful smiles by offering dental exams, cleanings, periodontal (gum) therapy, fillings, crowns, bridges, dentures, partials, professional whitening, veneers, bonding, implant restorations, extractions and root canals.
"Our dental team provides quality dentistry in a relaxed, friendly and caring environment. We stress patient education so our patients always know what to expect before we perform a procedure," said Dr. Lamba.
Dr. Lamba earned her dental degree from the University of Texas Health Science Center, where she also completed a residency. Her undergraduate degree is from Texas A & M University in College Station. Dr. Lamba is a member of the American Dental Association and Academy of General Dentistry. She is fluent in English and Hindi.
Coast Dental Acworth accepts more than 200 dental insurance plans and can often accommodate dental emergencies the same day. Hours are Monday – Friday from 8:30 a.m. – 5:00 p.m. To schedule an appointment, call (770) 917-8943 or visit http://www.CoastDental.com/Acworth.
Save More. Smile More.
To help patients maintain a regular schedule of dental visits, Coast Dental Acworth is offering special savings to new patients who do not have insurance. Included are a free exam & x-rays and a free membership in Smile Plus®, a dental plan that saves members up to 70% on dental services. Download coupons and details for these and other offers on the office website
About Coast Dental
Coast Dental, P.A., with its professional associations, is one of the largest providers of general and specialty dental care in the U.S. with 182 affiliated dental practices in Florida, Georgia, California, Nevada and Texas. Coast Dental Services, Inc. is a privately-held practice management company that provides comprehensive, non-clinical business and administrative services to its affiliated dental practices. The company is headquartered in Tampa, Florida. For more information, visit http://www.CoastDental.com