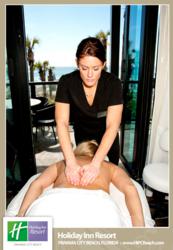 "With this spa, guests can simply come straight up from the beach to the spa, shower the sand off, and enjoy their treatment." Says Devon Hofford, Head Message Therapist and Esthetician
Panama City Beach, Florida (PRWEB) April 11, 2012
The Holiday Inn Resort, Panama City Beach has always offered a wide array of amenities for guests of all ages to enjoy, and this year the resort is excited to add the Ocean Front Day Spa for the adults, teens, and tweens! This mini spa offers massages, facials, body treatments, as well as manicure and pedicure services – all right here at the resort!
"We offer a variety of spa sessions and packages to choose from," says Devon Hofford, Head Message Therapist and Esthetician. Guests can visit the mini spa for a Relaxation Massage, Hot Sand Stone Massage, Sea Salt Body Treatment, Beach Body Firming Treatment, Quenching Sea Spray Facial, Marine Softness Facial, or many other types of pampering - without the stress of driving around town. "With an off-site spa, you have to get in your car and battle traffic - making your relaxed feeling fade fast… With this spa, guests can simply come straight up from the beach to the spa, shower the sand off, and enjoy their treatment. Once a spa session is over, the guest can walk right back down to the pool or beach chair and continue to relax and enjoy the rest of their day," says Hofford.
This mini spa features all ocean based treatments and products, perfectly suited for the ocean front setting. "The facial was so relaxing I almost fell asleep! The products smelled so good and so clean, I truly enjoyed every minute of it!" says Meghan Murphy, Holiday Inn Resort guest from Chicago, IL. The Ocean Front Day Spa is located in The SeaWatch, the resort's conference and entertainment center, which sits right on the sugar white sands overlooking the emerald green waters. This venue offers amazing views of the Gulf of Mexico allowing guests to relax even more while being pampered.
For guests who are here for a romantic getaway, couples massages are also available at the resort.* Couples looking to unwind together will visit the 15th floor of the hotel where they'll receive relaxing massages in a spacious room with unbelievable views of the Gulf.
The Holiday Inn Resort's mini spa hours vary by season. For the upcoming summer season the spa will be open Tuesday – Saturday 10am – 6pm, and by appointment only on Sunday and Monday. For more information on how to book a Room and Spa package at the Panama City Beach, Holiday Inn Resort's Ocean Front Day Spa, Call 800.633.0266 or visit them online at http://www.hipcbeach.com.
*Couples Massages must be booked at least 72 hours in advance.