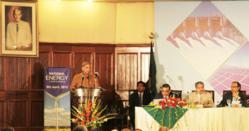 I firmly believe that the future mode of development is public-private partnership and we will offer the right incentives for attracting investments into this area
(PRWEB UK) 9 April 2012
Lahore, Punjab: The second national energy conference started in Lahore this morning, attended by the representatives of all federal and provincial organizations, and aims to resolve this important issue through consensus among all stakeholders. This will be the second one being conducted in this matter, with the first in Islamabad nearly two years ago.
PML(N), the ruling party in Punjab, and Punjab Government, the host, have adopted a very stern tone at the conference, demanding that the federal government not merely make this a show but the actions decided in the conference should be implementedto the full extent. In a statement released from him office, ex-Prime Minister of Pakistan and President of PML(N), Muhammad Nawaz Sharif, said, "The prolonged load shedding has adversely impacted all sectors of the economy, whether it is industrial or agricultural production, offices or educational institutions, hospitals or home. Thousands of workers have been laid off in the face of high fuel prices and exports, that are needed desperately to overcome the financial crisis, have been seriously affected. The sad part is that it all could have been avoided with better planning and timely actions."
"I firmly believe that the future mode of development is public-private partnership and we will offer the right incentives for attracting investments into this area," Nawaz added.
It is understood that the said crisis was causing an irreparable loss to the national economy and all sectors, including agriculture, manufacturing, exports, etc. were being badly affected. In his opening remarks, which were not only well received by those in attendance, but also the general public, Chief Minister of Punjab, Shahbaz Sharif, commented, "I am not here to present the case of the masses of Punjab, I'm talking today as a concerned Pakistani. We would not have been facing dictation and humiliation at international level if the recommendations of the energy conference two years back had been implemented." He continued to add, "If we don't act, we'll be held accountable by masses. We need to assess where we went wrong and need to take corrective measures."
Punjab, being ruled by PML(N), has taken a very strong stance on the energy conference; that there was no need of such conferences if there would be no compliance. Punjab was the only province that adopted almost all conservation measures including early closure of markets, marriage halls, etc, as was agreed in the first energy conference. However, Federal and other provinces failed to act on the agreed steps. Furthermore, in an effort to provide relief to an already underperforming system, Punjab Government had added several initiatives for power generation to their portfolio. Progress on most of these projects has been hampered due to the delays caused by the federal authorities such as NEPRA, DISCOs and PEPCO.
PML(N), through Punjab Government, proposed a twenty-two point program as a possible solution to the energy crisis in Pakistan. This included the Federal Government taking concrete measures to deal with circular debt, which has been a major cause of this issue as acknowledged by Prime Minister Gillani in his remarks at the conference. Furthermore, it also recommended that shortage should be shared equally amongst provinces, that pre-announced schedules of load-shedding should be strictly adhered to and priority to be given to more efficient power generation projects.
In a live Q&A session that followed the speeches, Ahsan Iqbal from PML(N), a member of the nationa assembly, commented to Prime Minister Gillani that "It is a dilemma that President and Prime Minister houses are exempted from load-shedding, whereas our industries, businesses, universities and hospitals are suffering from unscheduled power outages.."
It is hoped that the conference will bring out some concrete resolutions that will be followed stringently to ensure that Pakistan rids itself of the energy crisis.