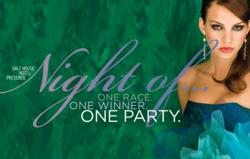 We are so proud to be celebrating the jockeys that make the Kentucky Derby so special with our "Night of..One Race. One Winner. One Party" by supporting the Permanently Disabled Jockeys Fund that gives help to jockeys who have had catastrophic injuries.
Louisville, KY (PRWEB) April 10, 2012
Louisville's Galt House Hotel, the Heart of Louisville, is rolling out its red carpet again for the second year in row the first Saturday in May after the biggest horse race of the year with a special stylish flair. The only party to celebrate after the juleps are sipped will present a high-styled fashion model in a beautiful red dress with train that guests will use to grace into the Grand Ballroom of the hotel. The "Night of…One Race. One Winner. One Party" pays tribute to the jockey's that make this day so special.
This Derby party will have celebrities, but the celebrities most admired in attendance are the 40 jockeys that come to have some well-earned fun after the glory of all their hard work. The winning jockey will be inducted into the Galt House Hotel's "Gallop to Glory" if that jockey has not already received this esteemed honor. The jockey will place a handprint in the midst of 34 other winning jockeys.
Last year, Galt House Hotel raised almost $60,000 for the Permanently Disabled Jockeys Fund, Inc. This public charity provides financial assistance to some 60 former jockeys who have suffered catastrophic on-track injuries. Since its founding in 2006, the fund has disbursed over $3 million to permanently disabled jockeys, most of whom have sustained paralysis or brain injuries. This year, Galt House Hotel hopes to raise $100,000 for the Permanently Disabled Jockeys Fund, Inc. That money will come from a portion of the tickets purchased for the party, as well as money raised in a silent auction that will feature some highly sought-after items.
Another special treat for guests this year will be a special meet-and-greet with Ron Turcotte, the famous jockey who in 1973 became the first jockey in 25 years to win America's Triple Crown on Secretariat. Penny Chenery, Secretariat's owner, will be attending the Kentucky Derby this year and could possibly attend the "Night of…Party" as well. Ms. Chenery is the woman behind the success of the most magnificent horse in history. She was featured in the Disney film "Secretariat."
The Night of…One Race. One Winner. One party starts at 8 p.m. on Saturday, May 5, 2012 and goes through 2:00 a.m. The party will be held in The Galt House Hotel's Grand Ballroom and Exhibit Hall (2nd Floor Suite Tower) at 325 West Main Street in Louisville, KY. The price per ticket is $425 and includes all limitless top-shelf libations, over-the top gourmet dining stations, and sensational musical entertainment by America's #1 Private Party Band…"Party on the Moon". This band has played at the White House for President Barack Obama's Inauguration, and for noted celebrities such as Donald Trump. Ages 21 and over only. Tables are selling quickly. To purchase tickets, call The Kentucky Center at 502-584-7777 or visit kentuckycenter.org. For groups of 10 or more contact Dee Asher at dasher(at)galthotel(dot)com or (502)588-4045.