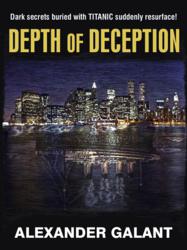 "It's important to remember the past, and I hope to continue this (charity) tradition every year on the anniversary of Titanic, not just this one milestone."
Toronto, Ontario (PRWEB) April 11, 2012
Canadian author Alexander Galant put his talents as a historical researcher and thriller writer together to pen his novel Depth of Deception (A Titanic Murder Mystery). He released it a week ago as an e-book to coincide with the centennial anniversary of Titanic. "It's connected to - but not about - Titanic," said Alexander Galant about the plot of his novel.
Depth of Deception is set in 1982, where a young woman is found floating on a wooden deck chair in the North Atlantic. She's unconscious, and wearing Edwardian clothing. Her only identification is a ticket for the Titanic. Is it a bizarre case of time-travel or an elaborate hoax?
"As the 100th anniversary approaches," Galant stated, "I want to honour the memory of those who perished on Titanic. We will donate a portion of the proceeds from that day's (April 15, 2012) purchases of Depth of Deception to the Titanic Heritage Trust."
Titanic Heritage Trust is a registered international charitable trust dedicated to preserving artifacts and the memory of Titanic. "It's important to remember the past," Galant added. "And I hope to continue this tradition every year on the anniversary of Titanic, not just this one milestone."
Depth of Deception can be purchased at an introductory rate of $0.99 from Amazon at http://www.amazon.com/dp/B007O3IKTY as well as in other e-book formats from Smashwords at https://www.smashwords.com/books/view/144531.
Alexander had hoped that the softcover version would be available in time but plans to include the hard copy sales on the 101st anniversary. For now he hopes many people will download the e-book version to make it worthwhile.
For more information visit, http://www.DepthOfDeception.com which contains a sample chapter, a synopsis, photos and a Bonus Feature page which includes a special 'Extras' section that can only be accessed if one has read the book and knows the password.
About Alexander Galant
Alexander Galant is a Canadian author, residing in Toronto. He was the historical researcher for the novel Dracula the Un-Dead, which was on the New York Times Best Sellers list in October 2009. He condensed the novel for the sold-out dramatic reading at the Bathurst Street Theatre that accompanied the Toronto book launch. Alexander has also written and directed several award-winning short films, including The Missing Piece which was given a Silver Remi for Suspense Thriller Short Film at WorldFest Houston. His most recent film is Star Wars: Blasted Behavior, a finalist in the Atom Films/LucasFilm Star Wars Fan Movie Challenge (George Lucas was one of the judges), which also won the Best Foreign Sci-Fi Film Award at the New York International Film Festival and continues to make the festival circuit.
About Titanic Heritage Trust
The Titanic Heritage Trust is the only international charitable trust set up to protect the history and name of RMS Titanic and those connected to it. The Trust's aim is to Preserve, Protect, Respect and Remember every aspect of the worldwide phenomenon which is TITANIC, including the lives lost, the skills used to construct Titanic, and the centralisation of the many artefacts to put on public display.