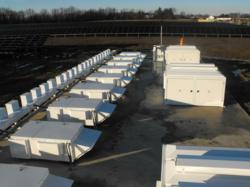 "It is a cost effective system that increases project efficiency, allows low-light energy harvesting, and increases the life of the inverter."
Toledo, OH (PRWEB) April 10, 2012
"AMP is pleased to select Nextronex Power Island™ inverter systems for the Napoleon Solar Facility because it fits well with our overall project goals," said Pamala Sullivan, Senior Vice President Marketing and Operations. "It is a cost effective system that increases project efficiency, allows low-light energy harvesting, and increases the life of the inverter. The 20-year system warranty is an important factor for AMP and our members. We also appreciate the opportunity to work with an Ohio-based company."
"Pepco has been a supplier to Nextronex since its inception, and as a premier electrical solution distributor and packager, Pepco recognized the opportunity to partner with a key customer on this recent opportunity for the City of Napoleon 4.2 MW solar inverter system presented to Pepco from AMP," Pepco's Director of Marketing John Paratore said, "As Pepco continues to expand its solution offerings in the alternative energy market segment, we embraced the opportunity to bring dedicated Ohio companies together to provide an innovative solution for this project. This truly plays on one of our strengths, being able to collaborate with partners like Nextronex to provide clients like AMP with complete power-project solutions."
Nextronex expects to demonstrate a 7% higher energy output vs. predictive models due to the Ray-Max® System's distributed optimization architecture which uses multiple inverters to harvest low light energy starting at only 650 watts. Greg Knudson, VP of Sales and Marketing for Nextronex, commented that "the selection of Nextronex aligns perfectly with AMP-Ohio's strategy of becoming a national utility leader by pursuing the development of renewable generation projects, including solar, to reduce its members' current exposure to the volatile wholesale electric market and to further diversify power supply portfolios. This solar energy investment will contribute to that goal while also maximizing the energy output by selecting the highest performing products on the market today."
About Nextronex
Nextronex, Inc. is a manufacturer of non-residential and utility scale solar inverter systems 100 kW and larger. Founded in 2008, the company received initial funding for research and development via private venture capital in Northwest Ohio. The company is focused on solar energy optimization through intelligent balance of systems design for both 600 and 1000 V DC solar array configurations and up to 15,000 V AC grid-connect. For more information about Nextronex, please visit their website at http://www.nextronex.com.
About AMP-Ohio
American Municipal Power, Inc. (AMP) is a nonprofit leader in wholesale power supply for municipal electric systems. AMP helps member communities navigate the volatile world of power supply. AMP currently serves 129 members - 128 municipal electric communities in the states of Ohio, Pennsylvania, Michigan, Virginia, Kentucky and West Virginia, as well as the Delaware Municipal Electric Corporation, a joint action agency headquartered in Smyrna, Delaware. Combined, these publicly owned utilities serve approximately 600,000 customers.
END