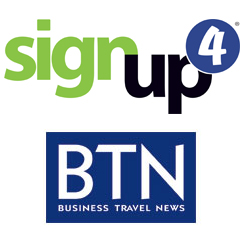 The invaluable feedback we received from this focus group will assist us in critical decisions we will make in the future
Atlanta, GA (PRWEB) April 11, 2012
SignUp4, the innovative meetings intelligence provider, had the pleasure of co-sponsoring the Atlanta stop of Business Travel Trends and Forecasts Conference April 5, 2012. This was the first of three one-day events put on by Business Travel News. The focus of this event was improving communications and creating incentives to impact travel behavior. Speakers at this event included industry leaders of travel and meetings from various Fortune 500 companies. Topics included hotel and airline demand management, best practices in travel and meeting management, and what airline trends mean to buyers. The conference offered an interactive atmosphere for open discussions between panelists and attendees.
SignUp4 used this opportunity to invite current customers to Atlanta headquarters to take part in the BTN conference and visit for a client focus group. The focus group was attended by a variety of clients including: KeyBank, Guardian Life, Great West Life, Fiserv and others. The goal was to provide a forum where users and decision makers could openly discuss industry experiences, challenges, and technology requirements.
Among topics presented were SignUp4's 2012 product roadmap, current feature set and future third-party integrations. Clients were encouraged to offer feedback and vote on priorities for how SignUp4 can better assist in meeting their goals. "SignUp4 takes pride in listening to our client's requests and altering our development and service to fit those needs. The invaluable feedback we received from this focus group will assist us in critical decisions we will make in the future", said Matt Hodge, VP of Sales.
About SignUp4
SignUp4 is the innovative meetings intelligence provider offering the highest quality event management and strategic meetings management solutions with an affordable unlimited usage model. Founded in 1999 and backed by an experienced team of technology and event management experts, we are driven by a single objective- to design, develop, deliver, and support the most reliable, cost-effective event management tools. To ensure we meet the needs of our clients and the demands of the evolving meetings industry, we develop new features and functionality every 5 weeks, on average producing over 1,000 updates annually. The goal of SignUp4's meetings intelligence is to streamline workflows, simplify and drive registrations, efficiently manage travel logistics, improve communications, and provide visibility into meeting spend for leveraging contract negotiations and increasing ROI. With over a decade of experience, 3,200 users and over 80 of the Fortune 500, we understand the value of your time and events.