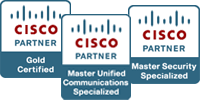 Valencia, Calif. (PRWEB) April 09, 2012
Nexus IS, Inc. announced today it has been recertified as a Cisco® Gold Partner with Masters Specializations in Unified Communications and Security. To earn these recertifications, Nexus completed a rigorous audit process to ensure they continue to meet the high standards set forth by Cisco in networking competency, service, support and customer satisfaction.
"As the network becomes the platform for driving communications and innovation, our customers are demanding an enhanced set of skills and capabilities from channel partners," said Edison Peres, Vice President and Chief Go-to-Market Officer for Worldwide Channels at Cisco. "Nexus' ongoing investment in their Gold Certification and Master Specializations in Unified Communications and Security ranks them among the industry's elite."
Through their specializations and certifications, Cisco recognizes a partner's expertise in deploying solutions based on Cisco advanced technologies and services. Using a third-party audit process, the program validates a partner's technology skills, business practices, customer satisfaction, pre-sales and post-sales support capabilities, and other critical factors that customers consider when choosing a trusted partner.
As a Cisco Gold Certified Partner, Nexus has attained the broadest range of expertise across multiple technologies by achieving Cisco advanced specializations in unified communications, routing and switching, security, and wireless LAN.
To achieve the Master Unified Communications and Security Specializations, Nexus was required to meet a series of stringent requirements including Cisco and industry-standard technical certification requirements. Nexus was also required to provide customer references that document Cisco-prescribed design and deployment capabilities, and show evidence that they have the infrastructure to support a full menu of Lifecycle Services offerings and capabilities.
"I am delighted and proud of our team's performance - led by our VP of Engineering Mike Heiman and VP of Professional Services Dale Hardy - in achieving the recertification of our Gold Partnership and Masters Specializations with Cisco," said Waheed Choudhry, Nexus President and COO. "Our experience and expertise are what differentiate Nexus and we are committed to maintaining the highest standards of technical execution in order to best serve our customers."
About Nexus IS, Inc.
Based in Valencia, CA, Nexus IS, Inc. leverages its extensive experience and expertise to enable organizations to connect to their customers, collaborate to achieve their vision, and create innovative ways to solve business problems. We do this by providing expertise in end-to-end technology solutions based on five distinct, yet complementary practices: Collaboration, Data Center, Borderless Networks, Business Video, and Managed Services. Nexus partners with industry leaders including Cisco, EMC, VMware, NetApp, Citrix, Microsoft, and NEC to ensure its customers are provided the most comprehensive and competitive solutions. Nexus serves the private sector, from small business to the Fortune 500; and the public sector including education and local, state, and federal governments. Additionally, Nexus has specialized healthcare solutions offered under its brand, Nexus Connected Healthcare. For additional information, please visit http://www.nexusis.com.
# # #
Cisco and the Cisco logo are trademarks or registered trademarks of Cisco and/or its affiliates in the U.S. and other countries.