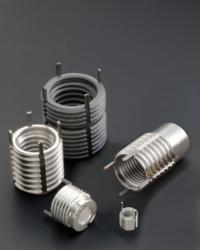 Carpentersville, IL (PRWEB) April 10, 2012
Stripped threads in soft metals can be quickly repaired with new Keylocking Thread Repair Inserts from Acme Industrial Co., a subsidiary of Jergens, Inc. Acme threaded insert products are easy to install and easy to remove. The insert's keys are driven down into the threads of the surrounding base metal to lock the insert into place and provide a secure mechanical lock against rotation.
Repairing a stripped threaded hole in soft base metal like aluminum or magnesium is easy, with no special drills, taps or pre-winder tools required. Because Acme Keylocking Inserts are solid metal bushings rather than formed wire (such as Heli-Coil® insert products), they have much greater pull-out strength and torque-out strength.
Acme threaded inserts are available in both industrial and MS / NAS insert styles in a full range of inch and metric sizes, in coarse or fine pitch threads. Lightweight, Heavy Duty and Extra Heavy Duty types, with Non-locking or Self-locking internal threads are available.
Acme Industrial Company, a major manufacturer of threaded inserts, drill bushing products, and key locking studs, was founded in 1914. Its products are specified throughout industry, including aerospace, and military applications. Acme Industrial Company has an ISO 9001:2008 registered quality system.