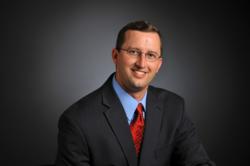 Dallas, TX (PRWEB) April 10, 2012
Force 3, delivering innovative data center, collaboration, networking and security solutions, today announced that Practice Director of Collaboration Jason Parry will appear as a speaker at the U.S. Department of Energy's Information Management Conference in Dallas, Texas on Thursday April 19 at 1:30 p.m.
Parry will lead an information session entitled "The Secrets to Building an Effective Collaboration Strategy for the Modern Day Workforce." During this session, attendees will learn how to use video to positively impact the way their employees communicate and the best ways to embrace the collaborative nature of the new Millennial generation workforce. Parry will also address the challenges that arise with an increasingly mobile workforce.
Jason Parry is the Practice Director of Collaboration for Force 3. His role focuses on managing Force 3's team of highly talented network engineers and driving customer success of Communication and Collaboration solutions for Force 3.
The Information Management Conference will be held April 16-20, 2012. This year's conference is focused on providing meaningful information and maximizing the contribution and value of information technology for the Department. New to the conference this year, both town hall and several selected presentations will be streamed live via web-ex for all those that cannot attend in person.
About Force 3
Force 3 is the trusted provider of Data Center, Communications and Collaborations, Borderless Networks and Cyber Security services for Federal agencies, Enterprise organizations and their key partners. With headquarters in Crofton, Md. and offices in Herndon, Va. and San Antonio, Texas, Force 3 has a 20-year history of delivering, supporting, and maintaining cost-effective IT products and services. At Force 3, we have a relentless focus on achieving our customers' end goal through innovation, unique solutions and highly trained, passionate people. Our dedication has resulted in being named one of Cisco's Top 5 Federal Gold Partners in America, as well as Federal Virtualization Partner of the Year in 2011. For more information, please visit http://www.force3.com.