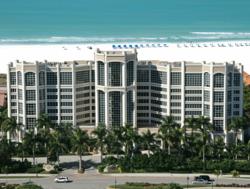 The website is cutting edge with powerful features.
Marco Island, FL (PRWEB) April 12, 2012
Marco Beach Ocean Resort has launched its new, enhanced website bringing its design to the cutting edge with powerful new features and layout design. The functionality and content have been updated and website has more sophisticated with an elegant look including great photo galleries. The new look and design are user friendly and easily navigable.
The new design encourages site visitors to explore the amenities and services offered by the resort through unique content and a wide selection of photography of the resort, restaurant and banquets facilities. A new integrated feature is also a social media, allowing visitors to connect directly with Facebook, Twitter, Youtube and Trip Advisor.
Web site redesign project include:

User Friendly Navigation – lets visitors find the information they need to discover the resort as well as view guest comments and social media networks.
A fresh color scheme that delivers a stylish, exciting and engaging look and feel
Colorful photo galleries of the hotel's features, accommodations, resort restaurants and banquet facilities for meetings and weddings.
Beach Webcam – great tool for visitors to see the "real" beach and spectacular views.
For more information, or to make a reservation, please visit http://www.marcoresort.com or phone 239-393-1400; 800-715-8517.
About Marco Beach Ocean Resort
The all suite Marco Beach Ocean Resort overlooking the Gulf of Mexico brings stellar service, lodging and dining to Marco Island, one of the fabled Ten Thousand Islands located between Naples and the Florida Everglades, on Southwest Florida's beautiful Gulf coast. Marco Beach Ocean Resort features a variety of dining options including the Beachfront Bar & Grill and authentic Italian cuisine at the award winning Sale e Pepe restaurant, a spa and fitness center, amenities, a sparkling pool, white sand beach and nearby golf perfect for a getaway, wedding or meeting. The resort's Concierge and the highly-trained international service staff accommodates personal tastes and regularly exceeds expectations.
Marco Beach Ocean Resort is enjoyed by resort guests, locals and is also part of The Tarpon Club, offering homeowners of Fiddler's Creek the opportunity to enjoy a beach and boating lifestyle so precious to those who live in the Naples/Marco Island area. Fiddler's Creek residents also enjoy amenities and have the opportunity to join The Golf Club, ranked in Golfweek's 100 Best Residential Golf Courses in the country for the seventh consecutive year.
Fiddler's Creek community is located off of Collier Boulevard on your way to Marco Island. For information, please call (239) 732-9300 or visit http://www.fiddlerscreek.com. For more information, or to make a reservation, please visit http://www.marcoresort.com or phone 239-393-1400; 800-715-8517.