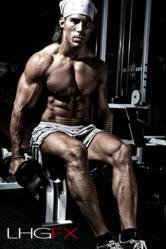 "[Craig] is the ultimate talent combining functional and sports strength, training knowledge, a killer physique and a personality that both entertains and teaches"
Houston, TX (PRWEB) April 09, 2012
Cellucor is proud to announce the signing of IFBB Men's Physique Pro Craig Capurso. Craig Capurso will join WBFF Pro Jen Jewell and Cellucor's own dual threats Daniel Lourenco and Colton Leonard to add a new dimension of talent to "Team Cellucor"—a team of fitness and strength athletes that represent the award winning brand through articles, blogs, videos and social interaction with a Cellucor fan base that's proven to be one of the most active and passionate in the industry.
Craig Capurso is one of the fastest growing names in the fitness community. Last year, he cemented a place in fitness competition history as part of the inaugural class of IFBB Men's Physique Pros, a category that's quickly becoming one of the most popular and competitive on the fitness competition circuit.
The Cellucor signing is the latest highlight in what's already been a huge year for Craig. Capurso is the reigning 2012 Bodybuilding.com Spokesmodel, a title he beat out thousands of entrants to win.
"We're really excited to welcome Craig to the team," said Cellucor Communications Director Daniel Lourenco. "He's the ultimate talent, combining functional and sports strength, training knowledge, a killer physique and a personality that both entertains and teaches—the sky is the limit with [Craig]."
In addition to his success on stage, Craig Capurso is already an accomplished fitness writer, video blogger and trainer with a demanding, and sometimes grueling day job. Craig is a Wall Street trader, a profession that undoubtedly speaks to his smarts, endurance and ability to think on his feet.
"[Wall Street] allows me to relate to the stresses of real people, understanding the pressures of the world and people outside of the gym," said Capurso. "…but if I can make time for fitness and health, you can do it too—I'm excited to show people how."
Fans of both Cellucor and Craig Capurso can look forward to several upcoming projects including Cellucor TV training series, articles and a mobile app. Craig will be actively blogging at Cellucor.com and via his Twitter account. Look for Craig to appear alongside his Team Cellucor teammates Jen Jewell and Daniel Lourenco in upcoming global advertising campaigns and at Cellucor appearances nationwide.
Visit Cellucor's Facebook or Twitter for more on the signing updates on the signing, launch of CellucorTV and other upcoming article/video series.
Cellucor products can be found at GNC, Bodybuilding.com, and select retailers internationally. Visit http://www.Cellucor.com or like Cellucor on Facebook to learn more.