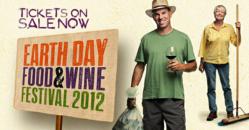 ...for a bunch of farmers dedicated to sustainability and nurturing the earth, we sure know how to throw one heck of a party!
Central Coast, CA (PRWEB) April 10, 2012
Attention all taste buds. Prepare to be tickled, tempted and tantalized at the 6th Annual Earth Day Food & Wine Festival on April 21 at Pomar Junction Vineyard & Winery in Templeton!
Along with the 45 wineries lined up for the event are 150 chefs, restaurants, and food producers who have come up with a dazzling array of delights. The tastes and flavors may run the global gamut, but the ingredients all celebrate the bounty of the Central Coast!
Our culinary wizards aren't just working their magic on the food. They also make sure to use materials such as recyclable plates and compostable serving utensils that greatly reduce the event's waste footprint. In fact, last year's event generated only 1.8 pounds of landfill-bound trash!
As a plate sponsor, Carmel Road Winery is a firm believer that you can have a lot of great food on a fully compostable bamboo plate. After the event, each plate sis composted by Engle and Gray and turned into fertilizer mulch at Harvest Blend.
At the Earth Day Food & Wine Festival, we keep even our carbon footprint small. 75% of guests ride shutlles to and from the event, a program made possible by Shale Oak Winery and Paraiso Vineyards. And from what we've heard, there's a lot of fun to be had on those school buses!
So let's get down to the food...tuck into pulled pork sliders from Porter's Truck on the Go or Carnitas Tacos from Chino's Rock & Tacos, enjoy Paella from 10th Street Basque Café or "Angry" Mac n Cheese from Central City Market, and don't miss the Wild Boar Goulash from Two Cooks Catering and Dolmades from Trumpet Vine Catering. If your sweet tooth needs a little TLC, pamper it with Pumpkin Spice Brownies from Spice of Life, sheep's milk ice cream from Negranti Dairy and Artisan Creamery, or homemade S'mores from Stewart & Clark Fine Foods.
In addition to all the tasty treats at the Earth Day Food and Wine Festival, you can also enjoy dancing to live music with The Mother Corn Shuckers, a silent auction, and just good times. We think you'll see that for a bunch of farmers dedicated to sustainability and nurturing the earth, we sure know how to throw one heck of a party!
Event proceeds support research, demonstration, and farm worker outreach programs of the Central Coast Vineyard Team a 501(c)3 non-profit organization dedicated to sustainable winegrowing since 1994.