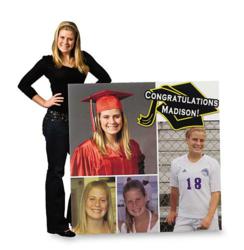 South Whitley, Indiana (PRWEB) April 10, 2012
Parents and soon-to-be graduates looking for unique graduation party ideas are turning to themed and personalized party products to express their individuality. "Graduates want their celebration to be tailored to their specific passions. Parents are looking for ways to do it without breaking the bank," remarks Jacquie Downey, Director of Sales and Marketing at Shindigz, a leading national party supply company.
"Mixing party theme elements are a great way to personalize the event and highlight the graduate's achievements and dreams. With today's technology, it's never been easier and more affordable to create a custom graduation party," explains Downey.
Custom Graduation Party Tips
Start with an overall theme that fits the graduate's personality. Shindigz offers over 100 party themes and limitless personalization possibilities. Parents and grads can assemble very unique parties or even a variety of parties to cater to different friends or relatives.
Teenagers went crazy over surfboard standees at a luau themed graduation party. The grad's mother explained, "We personalized these surfboards, which ended up being signed by friends as keepsakes."
Another popular idea: A Hollywood theme recognizes the graduate's star status. Mount a Personalized Walk of Fame* to foam board for guests to sign and the graduate will have a treasured memento.
"Our customers ask us to help them create memories for the graduate. They're looking for ways to make their graduation party unique. With 36,000 products, we let them highlight what makes their graduate special," says Downey.
Besides Hollywood and luau, other top-selling 2012 graduation party themes at Shindigz include glow-in-dark, BBQ, and collegiate decorations.
About Shindigz
Since 1926, Shindigz has "made life more fun" for 22 million events through the manufacture and sale of personalized party supplies. It ships products from its facilities in South Whitley, Indiana across the United States and around the world to 59 countries. With 36,000 unique products, it provides customers with a complete party solution. For more information about Shindigz or graduation party ideas, go to http://www.shindigz.com.
*Hollywood & Design 2012 Hollywood Chamber of Commerce. The Hollywood Sign and Hollywood Walk of Fame are trademarks and intellectual property of Hollywood Chamber of Commerce. All Rights Reserved.