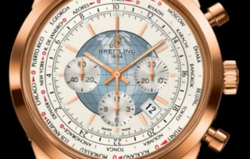 We've been, as you know, making our own in-house movement since 2009
New York, NY (PRWEB) April 09, 2012
Haute Time, the ultimate resource for luxury timepiece aficionados, presents exclusive video content behind top-tier watch brands from all over the world. Haute Living Co-publisher and Haute Time curator Seth Semilof sat down with Thierry Prissert, the President of Breitling USA, to discuss the brand's new boutique openings as well as the timepieces that stole the show.
"We've been very lucky and very busy in 2011 and at the start of 2012," said Prissert of the new thriving boutiques, located in New York City and South Florida. It's truly what's on the inside of the timepieces sold in these boutiques that is bringing them such great success.
"We've been, as you know, making our own in-house movement since 2009," said Prissert. "A lot of specialists say we make an amazing movement and our watches are great instruments of precision. To stand by that, Breitling has decided to give a five-year warranty on all watches equipped with in-house movement."
Amongst the stunning pieces Prissert unveiled was one that took Basel by storm: the Transocean Unitime. This world time watch displays different time zones and is equipped with the aforementioned in-house movement with two different patents. A simultaneously-moving city disc and time disc make this timepiece one in a league of its own.
Gaining an inside look at the industry's star timepieces directly from the company CEOs demonstrates the respect and passion Haute Time reserves for luxury watches and their corresponding brands. View the video interview with Prissert here, and explore the many wonders of Basel World 2012 at http://www.HauteTime.com.
http://www.hautetime.com/feature/haute-time-presents-thierry-prissert-of-breitling-at-basel-world
About Haute Time
Haute Time curators realize that luxury watches are more than style statements; they're representative of an individual's personality, aesthetic and attitude. The site features the most recent news in all things time, including new releases from the top brands, interviews with those helming these upscale watchmakers and a watch locator, which provides site visitors with authorized retailers nearby to them. Hautetime.com is frequently revised to reflect the latest in news, collections and brands, including Ulysse Nardin, Bell & Ross, Omega and beyond. Our experts regularly review the latest pieces and happenings in the market, including updates from Patek Philippe and Audemars Piguet.
# # #
For more information, please visit: http://www.hautetime.com