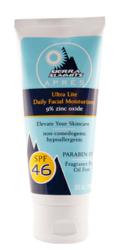 Naples, FL (PRWEB) April 11, 2012
One of PACK EXPO's10 finalists for innovative packaging concepts was for sunscreen. The finalist states that every consumer's beach bag has multiple bottles of sunscreen so they can best protect different body parts. To remedy this situation, a single container with modular compartments to hold lotions with different SPFs and a built-in lever allows consumers to choose a spray or pump applicator.
Sierra Summits Skin Products offers a simpler solution NOW – "It's not really all about the SPF factor since that only measures protection against burning cancerous UVB rays." Says Jennifer Rice founder of Sierra Summits. The American Academy of Dermatology recommends both adults and children use a sunscreen with an SPF of at least 30. "It's also about protection against UVA rays which causes aging of the skin and SPF doesn't measure UVA protection." "While a spray form of sunscreen applicator is often viewed as more convenient, especially for hard-to-reach areas, most experts say sunscreen cream offers better coverage and is more likely to be used properly." Says Jennifer.
Sierra's APRES sunscreen and daily moisturizer with SPF 46 broad spectrum sun protection for children of 1 years age plus, and adults. APRES was designed for sensitive skin types or body areas that are sensitive, like the face and APRES hydrates the skin while blocking burning UVA and aging UVB rays. Sierra's APRES contains no parabens, fragrance, oils, and scary chemicals – so no allergic reactions and won't irritate sensitive skin.
APRES also comes in individual packets for Easy to Carry, Easy to Use convenience. Elevate your skincare with Sierra Summits APRES
About Sierra Summits
Jennifer Rice, Master of Physician Assistant Science (MPAS PA-C) is a national board certified practicing physician assistant. PA's in Dermatology diagnose, treat and prescribe medications for general and cosmetic uses. PA's perform skin cancer screenings, surgical and cosmetic procedures autonomously under the guidance of a supervising Dermatologist.
Sierra Summits Skin Products was born in 2006 while Rice was working in Reno and Lake Tahoe, Nevada. It was patient feedback and concerns about the mainstream sunscreen brands, which prompted Rice to create a high quality, dermatology grade sunscreen to market at an affordable price. The brand "Sierra Summits" was an idea to capture the lifestyle of the Sierras', an adventure playground for hikers, skiers, cyclists, and travelers.