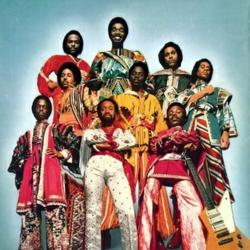 The winner of Shining Star is definitely in for a wonderful warm experience by spending time with me in the studio
Los Angeles, CA (PRWEB) April 10, 2012
SongVest, the world's first and only site to share a portion of or sell songs themselves as entertainment memorabilia, has announced their next auction with Larry Dunn and Earth, Wind & Fire. In addition to partial song royalty ownership, the winning bidder of Shining Star will have the opportunity to meet with Larry during a private recording session.
Songs up for auction will include "Shining Star," "Jupiter," "Africano," "Be Ever Wonderful," "Gratitude," "Magic Mind," "Let Me Talk," "Departure," "Faces," "Ain't No Harm to Moan," "Clover," "Dreams," "Seraphim (Angel)" and "African Symphony"
"We are very excited to have an artist of Larry's caliber on our site, and provide an opportunity for Larry Dunn & Earth, Wind & Fire fans to connect with him in a completely unique way" said Sean Peace (President and Founder of SongVest).
Earth, Wind & Fire has entertained fans around the world for decades, and established themselves as one of the biggest bands in music history. In addition to selling 90+ million records worldwide and winning six Grammys, Earth, Wind & Fire has had numerous Gold, Platinum and Multi-Platinum chart-topping albums and singles. The band was also inducted into the Rock And Roll Hall Of Fame in 2000.
Larry Dunn is currently recording and touring with The Larry Dunn Orchestra as well as writing, producing and playing for various artists and projects including the forthcoming Earth, Wind & Fire release entitled, "Now, Then & Forever." His solo projects, "Lover's Silhouette" and "N2 The Journey" are available for purchase on iTunes. Larry was also inducted into the Songwriter's Hall Of Fame in 2010. For more on Larry, visit his website at http://www.larrydunnmusic.com
"I think it's great that SongVest gives me the opportunity to share some of my rich history with my fans," said Larry Dunn. "The winner of Shining Star is definitely in for a wonderful warm experience by spending time with me in the studio."
For more details about the auctions, please visit SongVest.com The auction will begin on April 9th, 2012 and end May 6th, 2012.
Since 2007, SongVest has offered music fans, collectors and investors the unique opportunity to share the royalties with the writers of their favorite music. Past auctions have included the rights of songs recorded by Aerosmith, Bon Jovi, Carrie Underwood, Ringo Starr, Ozzy Osbourne and The Monkees. Also don't miss buying royalties as investments at The Royalty Exchange.